Iran's President Lauds Hashd Al-Shaabi's Role in Iraq
TEHRAN (Tasnim) – Iranian President Hassan Rouhani praised the Hashd al-Shaabi (aka Popular Mobilization Units) for its key role in the stability and national solidarity of Iraq.
"Hashd al-Shaabi has had a very important position in Iraq's culture and strengthening of its national solidarity," Rouhani said in a meeting with Iraq's national security adviser and head of Hashd al-Shaabi, Falih al-Fayyadh, on Tuesday.
Paying tribute to the Iraqi popular forces for devoting their lives to the war against terrorism and for creating stability and security in Iraq, the president described the Iraqi people's fight against terrorists as a source of pride for the Muslim world.
The Iraqi official, for his part, called for closer ties between Tehran and Baghdad in diverse fields, saying enhancement of bilateral relations would pave the way for major developments in the region.
In a separate gathering, the Iranian president held talks with Leader of Iraq's National Wisdom Movement Ammar al-Hakim.
In the meeting, Rouhani lashed out at the US for hatching plots against regional nations, saying, "The Islamic Republic of Iran is, like the past, ready to take steps to resolve regional problems and broaden dialogue and interaction among regional countries."
For his part, Hakim said his movement feels duty bound to stand against the excessive demands of big powers and the propaganda against Iran.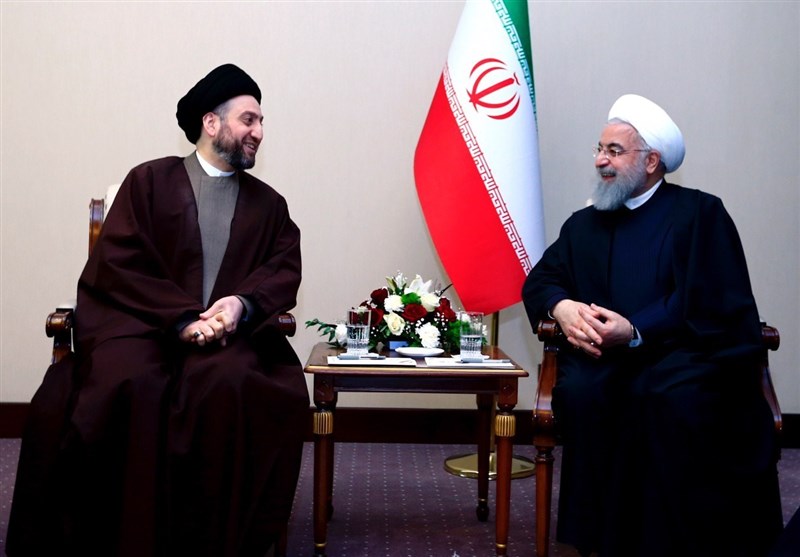 He also said that closer cooperation with Iran would speed up the process of reconstruction in Iraq.
Heading a high-ranking delegation, Rouhani arrived in Baghdad on Monday at the official invitation of the Iraqi government. It is Rouhani's first official visit to Iraq during his tenure.