IRGC Chief Highlights US Growing Int'l Isolation
September, 23, 2020 - 14:21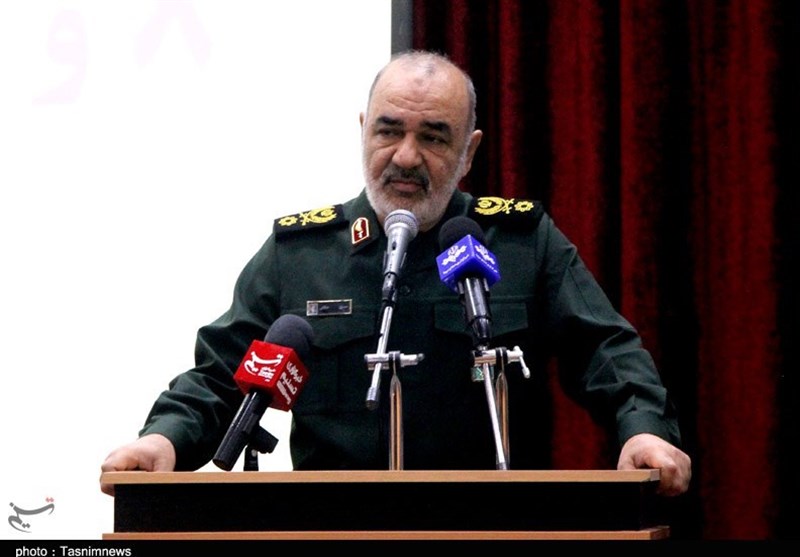 TEHRAN (Tasnim) – Commander of the Islamic Revolution Guards Corps highlighted Washington's successive defeats in direct and proxy wars and its growing isolation in the international community, saying the US is unable to heal its wounds.
Addressing a ceremony on joining of 188 new drones and helicopters to the IRGC Navy's fleet, Major General Hossein Salami said the US used to deal with the challenges through wars in the past, but it is now unable to heal its wounds.
The American wars, severe sanctions, psychological warfare, heavy political pressures and plots against Iran have all ended in failure, the general added, saying the US has no more capability or motivation for another war because of its aging hardware and weakened resolve.
Pointing to the major economic challenges that have gripped the US, Major General Salami said the American leaders have no political wisdom and have become passive.
He further reaffirmed Iran's determination to boost its power and extend the range of weapons, saying the IRGC Navy has made great advances and has turned into an air-based naval power with a combination of amphibious drones, choppers and planes.
The enemy has failed to achieve any success in direct or proxy wars, Salami underlined, saying the UN Security Council's opposition to the US is a sign of the "global arrogance's isolation."
In a speech in August, Leader of the Islamic Revolution Ayatollah Seyed Ali Khamenei slammed the US government as a model of complete failure, saying human values like health, justice and security are being trampled on in the United States more than anywhere else.
The Leader also said the fact that "the US is headed by people who are a source of humiliation for that country is another sign of the defeat of Western models and the decline of Western civilization in the world."