Capitol Attack Proves US' Downfall: Iran's Human Rights Council
January, 08, 2021 - 16:46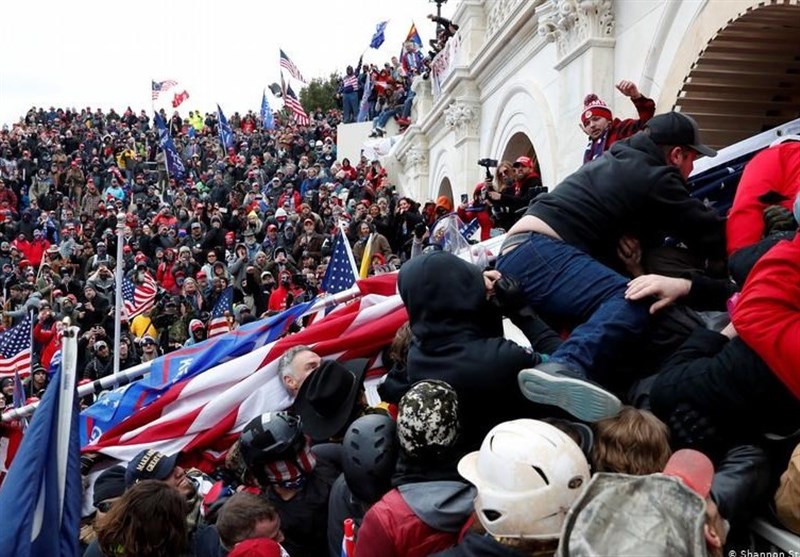 TEHRAN (Tasnim) – The Iranian Judiciary's High Council for Human Rights described the Wednesday's assault on the US Capitol by supporters of Trump as a testimony to the downfall of the US.
In a statement released on Thursday, the Iranian Human Rights Council said the recent violent riots in Washington, D.C., proved that not only is the decline of the US a reality, but downfall is the ultimate fate of the most supremacist and shaky American regime.
"Even the power of atomic bombs, B-52 airplanes, and dollars cannot slow down the decline of the arrogant US regime," the statement added.
It also noted that 46th president of the United States will have to take oath of office with a minute's silence in memory of the American citizens killed at the Congress by the US rulers.
The council also decried a muted response from the UN Secretary-General, the UN High Commissioner for Human Rights, and the evenhanded observers on the violation of the rights of American citizens as a green light to breach human rights, urging them not to sacrifice the rights of Americans for the interests of the US power-holders.
The statement finally expressed deep concern about the violation of rights of the American protesters arrested in the Capitol and about mistreatment of them in the course of interrogation, such as the forced confession like what happened in the Guantanamo Bay detention camp and Abu Ghraib prison.
Any group and current holding power in Washington, D.C., must honor the US regime's commitments to allow freedom of speech and peaceful demonstrations and protect the rights of American citizens, it added.
Four people have been killed in the Capitol riot that also injured 50 police officers after supporters of outgoing US President Donald Trump invaded the building to prevent the confirmation of Joe Biden's electoral victory.
The deaths included a woman who was shot. Another woman and two men died from medical emergencies.