Iran Discusses Enhancing Military Ties with Azerbaijan Republic
January, 15, 2021 - 15:07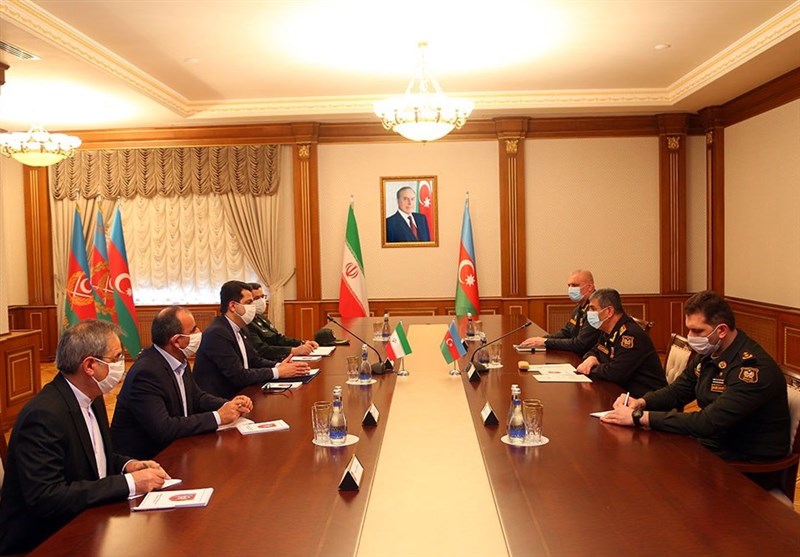 TEHRAN (Tasnim) - Iran's newly appointed Ambassador to Baku Seyed Abbas Mousavi discussed broadening and expanding cooperation in the military field at a meeting with Minister of Defense of Republic of Azerbaijan Colonel General Zakir Hasanov.
During this bilateral talk, the two sides explored avenues for further expansion of the level of military and technical cooperation between the two countries.
The Azeri minister congratulated the Iranian ambassador on the beginning of diplomatic mission in his country and wished him success in the field of expansion of cooperation between the Azerbaijan Republic and Iran.
The Azeri minister lauded positions adopted by the Islamic Republic of Iran in the course of the recent conflict erupted between the Azerbaijan Republic and Armenia over the Nagorno-Karabakh region.
He also pointed to the constructive and important role of presidents of the two countries of Iran and the Azerbaijan Republic in developing bilateral ties and termed military cooperation between Iran and the Azerbaijan 'successful'.
The Iranian diplomat for his turn congratulated the Azerbaijani people on their victory and wished the mercy of Allah Almighty to the souls of all who died during the conflict.
Mousavi also expressed his satisfaction with the beginning of activities in a friendly Azerbaijan as an Ambassador and stressed that he would make every effort in boosting relations between the countries, in particular, cooperation in the military sphere.
The Ambassador noted that the development of military cooperation between the two countries is an important issue in ensuring regional security.
According to the Azeri defense ministry website, the sides exchanged views on expanding cooperation in the military fields and organizing mutual visits of military representatives of the two countries.
In addition, they also discussed the prospects for the development of relations in the military-technical, military-educational spheres and in the field of military medicine, as well as regional issues.