Zarif Asks Georgia to Settle Problems of Iranian Expats, Truckers
January, 28, 2021 - 14:36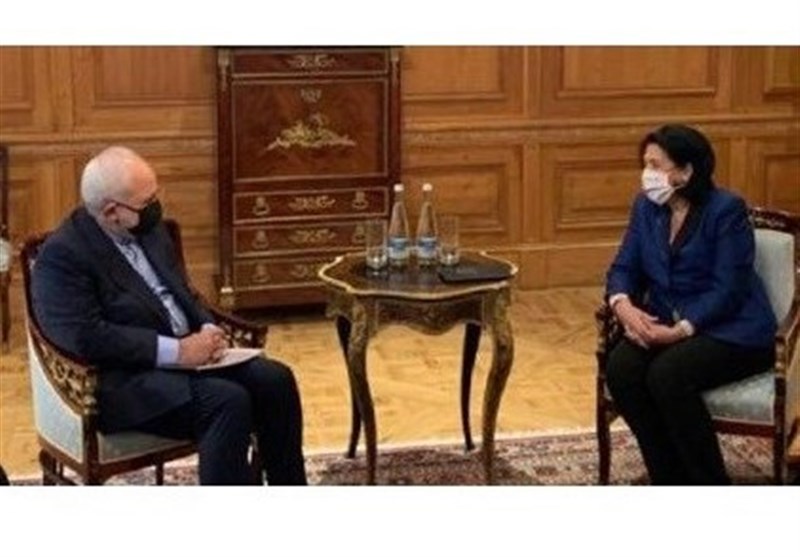 TEHRAN (Tasnim) – Iranian Foreign Minister Mohammad Javad Zarif called on the Georgian government to help resolve the problems faced by the Iranian nationals residing in Georgia and the truck drivers traveling to the Caucasus nation.
During his stay in Tbilisi on the fourth leg of a tour of the Caucasus, Zarif had a meeting with President of Georgia Salome Zourabichvili on Thursday morning to discuss the latest status of the bilateral relations between Iran and Georgia and the situation in the region.
The top Iranian diplomat congratulated Georgia on holding successful parliamentary elections, highlighted the historical relations between the two countries, and conveyed an invitation from the Iranian president for Zourabichvili to make a state visit to the Islamic Republic of Iran.
On the bilateral issues between Iran and Georgia, Zarif expressed hope for the promotion of cooperation between the two sides in various fields of mutual interest, particularly the trade and economic interaction.
He also pointed to a series of problems that the Iranian nationals residing in Georgia and the Iranian truck drivers are facing, calling on the government of Georgia to help settle those problems.
As regards regional issues, Zarif explicated Iran's stance on using the opportunity in the wake of the recent clashes in the Karabakh region for the expansion of regional cooperation to the benefit of all parties, and informed the Georgian president of the talks he has held on the subject in other regional countries.
For her part, President Zourabichvili highlighted the historical ties between Georgia and Iran, pointed to issues relating to the corridors connecting the Persian Gulf to the Black Sea, and emphasized the importance of economic cooperation between the two neighbors, joint investment, and cooperation in the fight against the coronavirus pandemic.
The Georgian president also elaborated on her country's views on regional issues.