Riyadh Cut Ties with Tehran to Cover Up Nimr Execution: President Rouhani
January, 05, 2016 - 16:16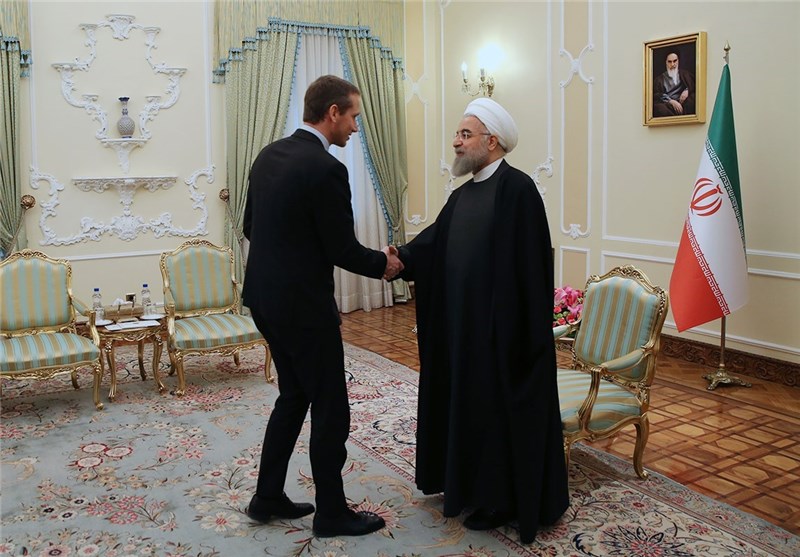 TEHRAN (Tasnim) – Iranian President Hassan Rouhani described Saudi Arabia's decision to sever diplomatic ties with Iran as a "bizarre" action aimed at whitewashing the crime of executing prominent Shiite cleric Sheikh Nimr al-Nimr.
"In order to cover up its crime of beheading a religious leader… the Saudi government has taken a bizarre measure and cut its political relations with the Islamic Republic of Iran," President Rouhani said in a meeting with Danish Foreign Minister Kristian Jensen in Tehran on Tuesday.
Lambasting the Al Saud regime for responding the voices of dissent with decapitation, the Iranian president expressed the hope that European states –which have always shown reaction to human rights issues- would "fulfill their duties" in this case as well.
Iran's chief executive further referred to "negotiation and diplomacy" as the "best way to settle disputes between the countries".
As regards the bilateral relations with Denmark, the president noted that stronger Tehran-Copenhagen ties will contribute to international peace and stability.
"There is serious determination on part of the Iranian government for expansion of relation with North European countries, including Denmark," Rouhani added.
For his part, Jensen said Denmark attaches great significance to enhancement of ties with Iran.
The Danish diplomat, who heads a trade delegation from the Scandinavian nation, also noted that his country is eager to cooperate with Iran on the transfer of technologies and making joint investment.
On Sheikh Nimr's execution, Jensen said Denmark was the first country that condemned Saudi Arabia's action.
Anger boiled up in Iran, Iraq and elsewhere in the region following the execution of the top cleric on baseless terrorism-related charges, which also drew widespread international condemnation.
In the early hours of Sunday, furious demonstrators in the Iranian cities of Tehran and Mashhad stormed Saudi Arabia's diplomatic buildings in protest at the Al Saud's execution of the popular cleric.
President Rouhani criticized the incident and called for the perpetrators to be brought to justice but Saudi Arabia decided to sever ties with Iran.
On Monday, Bahrain and Sudan cut all ties with Iran, following Riyadh's example.
The United Arab Emirates (UAE) also partially downgraded its relations with Iran.