Ex-Iran Carlos Queiroz Refuses to Respond to Tasnim's Questions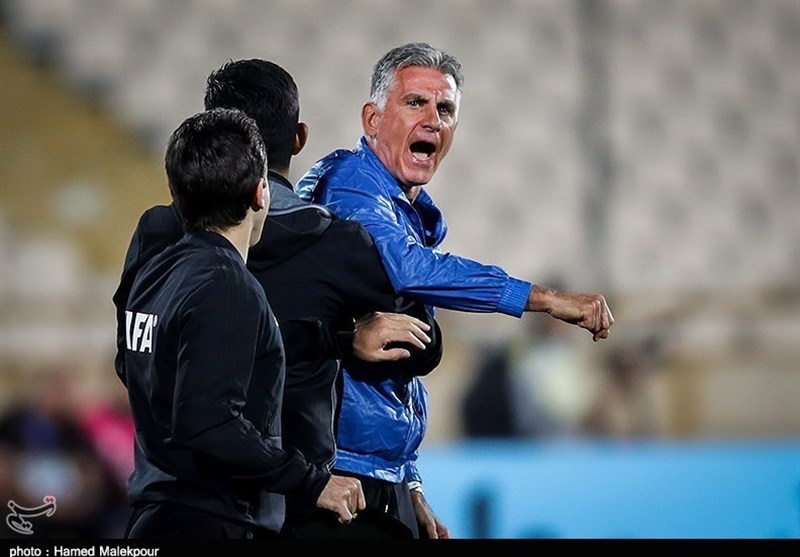 TEHRAN (Tasnim) - Following Carlos Queiroz's interview about Iran Football Federation, dating back to April. 14, 2019, there was "some ambiguity about what Queiroz said and Tasnim news agency decided to make clear them.
The correspondent of the news agency sports desk Alireza Moharrami sent the questions to the ex-Iran coach but Queiroz refused to answer the questions.
Queiroz requested one million dollars from Tasnim news agency for the interview to pay them Iranian orphans!!!
The full text of Tasnims's questions is as follows:
Mr. Carlos Queiroz,
1.In your last interview with an Iranian media outlet (ISNA), you claimed that Mehdi Taj did not fulfill his promises that he made to you concerning the FIFA World Cup prize money. According to your claim, Mehdi Taj used the World Cup prize money for reasons other than Team Melli's World Cup and Asian Cup preparations as well as financial commitments to players and coaching staff.
Can you please explain clearly how much of the FIFA prize money of 9.3-million US dollars was set aside for your bonus to qualify Iran for the 2018 tournament and bonuses for friendly matches for yourself only?
2.You have claimed that Mehdi Taj did not fulfill his promises and fell back on his words and you have further claimed that he sabotaged Team Melli's plans and goals, all of which – according to your claims – led to Team Melli being taken hostage by Qatar National Team's objectives.
Can you please explain clearly what preparations plans you had for Team Melli that was better than having access to the world renowned Aspire Academy that top European clubs use its facilities on a regular basis?
3.While Team Melli had the longest training period and access to the best accommodation and training facilities at Aspire in December 2018, thirteen other national teams such as China, Iraq, Kyrgyzstan, Jordan, Palestine, Algeria amongst others set up their training camp in Doha on the same basis as Iran. All these national teams had the chance to do so, like our Team Melli, as a result of their national association's Memorandum of Understanding (MOU) that had been signed with Qatar Football Association. Why were you the only coach who found this agreement and subsequent arrangements unacceptable?
4.Many national associations around the world, and not just Asia, such as England, Iceland, Hungary, Greece, Tunisia, Algeria, Russia, Turkey, China, South Korea, Japan, Oman, Kuwait, Uzbekistan, India, CAF, CONMEBOL, and many more in a very long list, have signed an MOU or Protocol of Cooperation with Qatar Football Association.
Tunisia spent fifteen days at Aspire in January 2018 as per their signed MOU and preparations for Russia 2018.
You have repeatedly claimed that Qatar benefited more than we did from Team Melli's Aspire camp in December 2018 and we were hostage to their demands and plans.
Qatar Football Association offered the same level of courtesy to Team Melli for our March 2018 FIFA dates camp during which time you took our team to Austria and Tunisia with far inferior facilities and at very high costs to our football.
QFA had offered to organize games for us. What mal-intentions QFA had, to provide us with the most professional and best facilities in the world and whatever friendly games you had in mind, in March 2018 that you refused their offer? Please explain in the most clear terms why you refused their offer and instead forced our federation to spend huge sums for a much more inferior program and training facilities in March 2018?
5.As a follow-up to the preceding question, I must ask you whether these accusations of yours against Qatar have anything to do with your upcoming match against them in Copa America as we witnessed such acts against Iran's opponents by you to distract them ahead of any important official match? Is that right?
6.You claimed that not fulfilling promises made to you created the most embarrassing situations during your eight-year stint in Iran. Can you please describe in the most-clear terms what those promises were?
7.You were in charge of our national team for eight years, longer than any coach in our history. Are you prepared to apologise to Iranian football fans for failure in two Asian Cup tournaments? The same fans who celebrated narrow losses to Argentina and Spain and appreciated your efforts.
8.You agreed to sign a six-month extension to the end of the 2019 AFC Asian Cup for a reported sum of US$900,000.00. Any employment contract such as yours includes certain number of holidays, which in your case was 45 days per annum. As such, your six-month contract should have your holiday as 22.5 days.
According to sources very close to you, Spanish and Portuguese media were constantly reporting on your negotiations with Uzbekistan, South Korea, Egypt, Cameroon amongst others in the immediate aftermath of the World Cup in July and August. You did not spend anytime in Iran in July and August and reluctantly came to Team Melli's September FIFA date camp, sitting on the sidelines. Based on our best estimate, you did not report for duty for at least three of the six months of the length of your contract. Why should our federation accept to pay your contract in full, while you had not reported for duty?
You refused to attend the most high profile of Iranian football calendar of the past forty years (AFC Champions League final) while you attended the Copa Libertadores final to further negotiate with the Colombian football officials in December 2018.
If you ran a business yourself, would you play someone in FULL who would not come to work?
9.Iran Sports Ministry has announced that they dedicated $US4.5-million along with 270-billion rials (US $1.8-million) to Iran's preparations for the World Cup and the AFC Asian Cup. The Iranian Football Federation has confirmed the abovementioned figures. Was this unprecedented level of support not sufficient enough? If not, what was your expectation?
10. Following the conclusion of the 2018 World Cup for Iran, you made every effort to have your contract extended for another four years until the 2022 FIFA World Cup as per your own repeated statements to Iranian media. You made this attempt while you constantly complained about lack of facilities and professionalism and most important of all for any coach, difficulties in receiving funds from the Iranian federation on a timely manner? If anything, those circumstances with respect to transfer of funds have become far more difficult in recent months. Why then, you were seeking a four-year extension to work with such "unprofessional individuals and amateur environment" as per your claims?
11.You also claimed that Mehdi Taj attempted to use the budget that FIFA was to allocate to clubs for some other reasons other than the intended recipients in this particular case – clubs with players on the national team in Russia. According to your claim, FIFA stopped this attempt.
Can you please explain in full details and clearly as to how this budget was to be misused and for what specific purpose and area?
12.You are fully aware of Iran's predicament so far as international sanctions are concerned. You yourself repeatedly complained about those sanctions in your interviews whilst you were in Iran. The most recent US sanction regime is far worse than a few months ago.
You yourself are fully aware that the Iranian Football Federation instructed the Asian Football Federation to forward US$900,000.00 of their 2019 AFC Asian Cup prize money that reached US$1,000,000.00 to your account. Having been fully aware of that, what purpose your letter to FIFA serves other than being told by FIFA that this international transfer fund should take its course to reach your account?
13.It is widely believed (in Iran) that your complaint to FIFA is designed to damage the country's reputation and the federation's attempt to sign their next coach. Is this true? If not, how can you justify your attempt while being fully aware of all circumstances, which were similar to your past experiences while being in Iran?
14. The Iranian Football Federation's legal department has claimed that your payment (via AFC) is to be completed soon and is just taking its natural courses of action taking into account issues that you are fully aware of. He has further said that they have filed a complaint against you with FIFA for leveling false accusations? What are your thoughts concerning your reported false accusations and your name being brought before FIFA's disciplinary committee, who are well aware of all circumstances, especially how Iran's prize money was distributed.
----
Carlos Queiroz answers:
Dear Mr. No Name
For the moment, I have one answer for you and Iranian Students News Agency (ISNA), If you have the courage to publish:
1- you are the most corrupt, dishonest and immoral journalist I've ever met in Iran, at service of dark and dirty people with private agendas.
2- Even knowing that, it is my pleasure to answer to you and ISNA. However, you must understand that as a professional football coach, I charge for each interview with 14 questions, each one with special agendas, order by your bosses, the amount of one million US dollars net.
This amount should be paid in one lump sum, at my foreign account bank in seven days.
3- As you must be fully aware, as usual, as soon as you pay for the interview I will send this amount as a donation to my special kids in Iran, at the orphan kids dormitory and school
Please don't step back with this offer because the Children's will be very disappointed with you.
Let me send my regards to your Special bosses that put one order for this interview at the Federation, in particularly general secretary Ebrahim Shakouri and his crew.
As you can see despite all the dirty and nasty campaign with private agendas you move against me but I'm steel very open and generous with you.
Hope to see soon. It's better outside of Iran, where we will be able to talk free and no protection of your friends.
Enjoy your poor and dirty life as much as you can.
Best regards
CQ
Final note,
1- Please make a fast decision, the kids are waiting and they need support.
2- DONT change one single word of my answer because I have your questions, my answer. If you change one word, I will publish in another social media channel.
Thank Mr. No Name
Dear Mr. No Name
Very unfortunately because I was so busy. I forgot to ask you to send my best regards to Mr. TAJ as well.
Hope is doing well after his heart attack in Turkey.
I'm sure he is very happy now with the position of Mr. Kafashian, Vice President of AFC.
*****
Do you like my answer?
*****
Hope you can publish in the official site of the Federation.
*****
I Forgot to tell you that the price I send to you is special for dirty people and corrupt people.
I hope you take the offer cause for you I did 50% discount.
Very generous take the offer, the kids are waiting for your answer
Regards
*****
Dear Mr. No Name
After consulting the kids they told me that I should make this interview alive, face to face at the school not far from them. They want to be present when you make those questions to see if you have that bravery and courage to do it in front of them.
A lot of players and staff they want to be there, including Dr. Eslamian.
I don't know what to do.
To be honest I don't agree with them, but if you give me that pleasure how can I say no these lovely Kids, Players, Staff and Dr Eslamian.
It is your choice now.
Pay one million us dollars for donation or organize the interview at the school with the My Kids, Players, Staff and Dr Eslamian
Wait for your answer in seven days
Regards
CQ
*****
Dear Mr. No Name
As you know you did not sign your questions
Naturally you did not sign, because it was not you that produce the questions you just receive instructions.
You are puppet not a professional
Just to let you know that I have the answers ready. You mention that my answers to ISNA where not clear and confuse people
I promise and I guarantee to you that I have a lot of clear stories and facts about all and everything including your Masters in my answers.
Please tell me if you are ready to make the deposit of my wages to pay my work for you.
The kids in my Tehran school are waiting for your payment for me to make a donation.
The people are waiting for my answers to enjoy my statements about facts and stories about you and your Masters.
Accept my regards and take care.
Don't forget to enjoy your miserable life a gift from God to you.
Do you have the cash money to pay my wages?
It must be in cash and in advance because It's obvious that nobody can trust people like you and your masters.
No money no answers!!
Waiting for the payment at my account.
Once you have inside private and confidential information from Iran Football Federation you can get my foreign account bank details from your sources or your Masters.
Regards to your Masters
I wish you the double of things you wish for me.
Finally, once you have so good and private relations with Iran Football Federation can you ask them when they are planning to pay my salaries and bonus???
More than nine months without paying. Don't you think is a shame for Iran Football Federation not to fulfill its duties and financial obligations???
You can answer to this one and I guarantee I will not tell them nothing.
I am not working for secret services. I am a professional football coach
Regards
CQ
----

Tasnim answers:
Dear Mr. Carlos Queiroz,
Greetings to you from the beautiful Iranian Capital; Tehran.
May I first of all emphasize that, generally speaking, individuals do not sign off WhatsApp conversations with their names. We have had previous WhatsApp text conversations, whereby neither you, nor me started or finished our text exchanges with our names. I have records of those conversations that support the above statement. In addition, My name and photo appears on my WhatsApp account that should bring back memories of my reports on the Iran v Sierra Leon match (March 2018) as well as my reporting of the proposed Argentina v Iran match to refresh your memories of those days. Having said all the above, it may have been more prudent to have introduced myself in my previous WhatsApp message of this past Saturday, 27th April (15:31 Local Time in Bogota). Here you are: I am Alireza Moharami, Tasnim News Agency's National Team and Football Correspondent.
If you didn't know my name and didn't know who I was, how dare you accuse me of being a corrupt individual? Is it because I revealed a number of issues surrounding you through my media outlet that you use that slanderous language? DO you have any proof for your false claims? Whatever I published was supported by documentary evidence such emails that had been sent to you and your own support staff. Tasnim News Agency and myself reserve the rights to pursue our legal rights.
You have indicated that as a professional coach you demand the sum of US$ 1,000.000.00 (One-Million United States Dollars and Zero Cent), which you claim carries a 50% (Fifty percent) rate reduction. No media outlet anywhere in the world, electronic or print, will ever even consider such proposal. And Tasnim News Agency will not be the first in the world in this category. We do not buy the news or sell our outlet to any party or individual. We would never entertain the idea to sell our platform to anyone, you included, to publish false news. We discover and publish news that we can verify through proven reliable sources. It is possible that some football coaches augment their income through organizing friendly matches and training camps themselves, but in our profession we treat news and investigative reporting "sacred" and would never consider it as a source of additional income for ourselves and colleagues.
You have indicated that you do not want this fee of US$ 1-million for yourself, but to donate to children whom you support in an Iranian orphanage. You can support those children through your own generosity and personal account. And even in the "impossible to happen" event that a fee – of any sum – should be paid to your bank account outside Iran, do you have a proposal for transfer of such funds? Why don't you make that idea known to your previous employer in Iran? We were under the impression that you have yet to receive the sum of US$ 900,000.00 (Nine Hundred Thousand United States Dollars and Zero Cents) for your failure in the 2019 AFC Asian Cup and not reporting to work for at least three of the six months of your supposed six-month employment contract with IR Iran Football Federation.
You have further claimed (falsely) that my paymasters are at the Iranian Football Federation and named General Secretary Ibrahim Shakoori as my boss. But I thought you were an intelligent and professional person and should have clearly remembered that I have not had good relations with the Iranian Football Federation and the nature of that relationship has remained the same due to my independence. I have been clearly wrong about the level of your intelligence. Since you spoke about one's employer, I should point out that while you speak well, you often misuse that talent of yours. A mutual respect, while having differences, between an employer and an employee is one of the most fundamental aspects of a working relationship anywhere in the world, Iran included. However, this simple aspect of any employment contract was regularly disregarded and disrespected in Iran, examples of which are far too many to list here. I would happily remind you of those disgraceful acts of yours in a different conversation.
You wished you would meet me outside Iran where I am supposedly deprived of my perceived protectors in your eyes. First of all, this is yet again another false claim of yours. Second of all, I can only assume you are seeking a repeat of your encounter with your countryman and sports commentator, Mr. Jorge Baptista. Am I right? You should well remember the incident of Saturday, 6th February 2010 involving you and Mr. Baptista at Lisbon Airport that was widely reported around the world at the time.
You have asked me whether I "liked your response"? I have to advise you that you did not respond to any of the fourteen (14) questions I posed to you. As such, I cannot form an opinion as to whether or not "I liked you replies." I would be extremely pleased to receive your answers to the fourteen (14) questions I respectfully submitted to you. You further hoped that I would publish your answers to my fourteen questions on the official Iranian Football Federation web site. To remind you where I work, I would invite you to read my investigative and revealing reporting on friendly matches against Sierra Leon and Algeria as well as Argentina Gate documents. My employer, Tasnim News Agency, has published my reports since my employment with them, and not the Iranian Football Federation. I have to emphasize again that the fourteen (14) questions, submitted to you, will form the backbone of my report for TASNIM News Agency and no other media outlet, nor any organization of any kind, the IR Iran Football Federation included.
You claimed you made contact with the orphaned children, Dr. Eslamian, your former players and staff shortly after you had received my fourteen questions. It should be noted that you first saw my WhatsApp message at 01:01 a.m. Sunday, 28th April (Local Time in Iran) or 15:31 Saturday, 27th April in Bogota (assuming you were in Colombia at the time). It is impossible to imagine that you contacted all those individuals in those early hours of the morning in Iran and managed to consult and gather everyone's opinion as to how the interview should be conducted. However, a professional interview does not require spectators and is a two-way conversation. However, I would welcome a live streaming of the interview or recorded version of it for those interested individuals and parties. We would suggest our offices as the potential venue for the interview. If you accept, please let us know when you consider coming to Iran. Just a reminder when you next time wish to make such claims in the future that Iran is 8.5 hours ahead of Colombia, while the country you claimed as "not second home, but first home" is 2.5 hours ahead of Central European Summer Time.
You repeatedly claimed in your messages of Saturday and Sunday, 27th and 28th April (local dates in Colombia) to me that I have written to you on behalf of the IR Iran Football Federation. I assure you that you are absolutely and one hundred percent (100%) wrong. Contrary to that, I was on the federation's black list since the last months of your reign in Iran. And that professional relationship has not changed either. Just for your own information and according to our national team players, your staff had told them (Team Melli players whom you took to the UAE in January 2019) in no uncertain terms that they must not talk to me. And despite that stark order, our Team Melli players, from team captain to bench players and even some of your assistants, talked to me in the framework of professional interviews related to sporting matters of the tournament during the 2019 AFC Asian Cup UAE.
I wish to remind you that my questions did not concern the health of Mr. Mehdi Taj, his takeover of Mr. Ali Kafashian's position as an AFC Vice-President, nor Dr. Eslamian or any other individual at our football federation. All these issues relate to the internal and administrative affairs of a national football federation. Those issues are no concern of a former, current or future national team head coach as I have no doubt you do not talk about similar subjects in Colombia. As such we, did not seek your opinion of those internal administrative affairs of our football federation that was not any of your business. Period. Even if you wished to offer your opinion on these matters, we would disregard them as we clearly wanted to give you an opportunity to once and for all explain yourself in the most clear manner on your contract with the Iranian Football Federation, your time away from Iran, which far exceeded time you spent in Iran, funds received by you and funds you had yet to receive. Our fourteen questions related to you, and you yourself would be the best individual, qualified to respond.
As a professional football coach, you made the most inappropriate and unprofessional offer to me on the sidelines of a national team training session on Sunday, 9th September, 2018. I was told to abandon my reporting of the proposed Argentina friendly match and not reveal any further documents that you correctly suspected I may have had in my possession in order to establish a "good and cordial" working relationship with you. However, my professional journalistic honor and instinct did not allow me to give even a split second of consideration to that offer of yours. Our National team Media Officer even relayed your message to me that you had even offered a sit-down exclusive interview to me, providing I stopped all my reporting of Argentina Gate; i.e. proposed friendly match between Argentina and Iran. As a professional, I turned down that offer. I did not take orders from anyone around that time in relation to my reporting of the proposal for that friendly match against Argentina and how it was handled. Pure and simple, I acted dutifully towards my employers at Tasnim News Agency. Similarly and unlike your false assumptions, I have not taken orders from the Iranian Football federation on this occasion either. In conclusion, I must say once again that I have consulted with my editor at Tasnim News Agency and sought guidance from him in every step of the way in relation to the fourteen questions I submitted to you on Saturday, 27th April and even these points that you are about to finish reading.
Alireza Moharami, Tasnim News Agency Reporter and Football Correspondent
P.S.:
Your dark views of the world in general, should not prevent you from giving explicit, honest and clear answers to the fourteen questions I forwarded you on Saturday, 27th April 2019 (15:31 Colombia Time or 22:31 Central European Time).
I sincerely hope that you soon receive your salary of US$900,000.00 (Nine Hundred Thousand United States Dollars) for your second consecutive failure in the AFC Asian Cup, and also not showing up for work for at least fifty percent (50%) of the length of your six-month contract; at least three (3) months. Should that payment be made soon, some of your anger, clear in your sarcastic and false statements, will no doubt subside. Further, I hope that you will then find the courage to clearly answer those fourteen questions, eradicating any doubts surrounding your financial gains; i.e. bonuses and any revenue above and beyond your contract with the Iranian Football Federation.
*****

Carlos Queiroz answers:
Before I read your comments
Did you make the deposit or not?
Or you think I will lose my time with you?

*****

Tasnim answers:
Everything is clear. You can read it.