US Power Eroding in Face-Off with Iranian Resistance: IRGC Chief
November, 22, 2020 - 16:26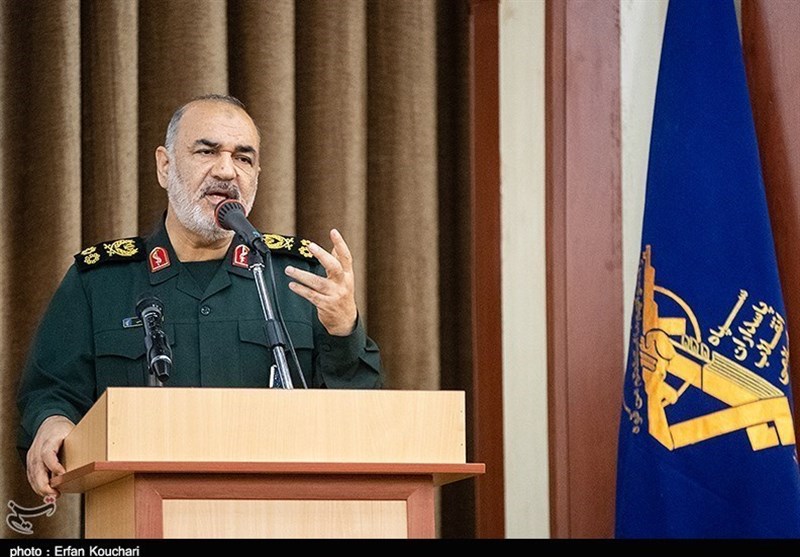 TEHRAN (Tasnim) – The commander of the Islamic Revolution Guards Corps highlighted the US' shrinking sphere of influence, depleting power, and successive defeats in confrontation with the Islamic Republic's resistance for more than forty years.
In a meeting of IRGC commander in Tehran on Sunday, Major General Hossein Salami said the US government is not known as a superpower anymore, as it is "aging" and its power has been depleted.
Like a person on a diet and suffering from osteoporosis, the US has been shattered from inside and Washington's external influence has also dwindled and its range of operation has been restricted, the commander added.
Highlighting the major economic problems that have plagued the US and the waning American military power, General Salami said the "robust eroding resistance" from Iran over the past four decades has pulled the US out of its strategic base, grappled with it, and defeated Americans several times.
The undeniable fact is that the US, as the symbol of Western power, is experiencing a downfall, he said.
In comments in November 2018, Leader of the Islamic Revolution Ayatollah Seyed Ali Khamenei highlighted the diminishing influence of the US government in all areas of power, saying Washington has even discredited "liberal democracy" which is known as the basis of Western civilization.
There is a consensus among major international experts that the US power is dwindling in all areas, the Leader underscored, adding that, conversely, the Iranian nation is moving forward and has a bright future.
Ayatollah Khamenei also branded the US government as the loser of confrontation with the Islamic Republic over the past 40 years, saying the fact in confrontation between the US and Iran is that "the victorious side in this challenge has been the Islamic Republic of Iran and the loser has been the US."