Israeli Driver Rams Palestinian Protester amid ongoing Clashes in Al-Quds (+Video)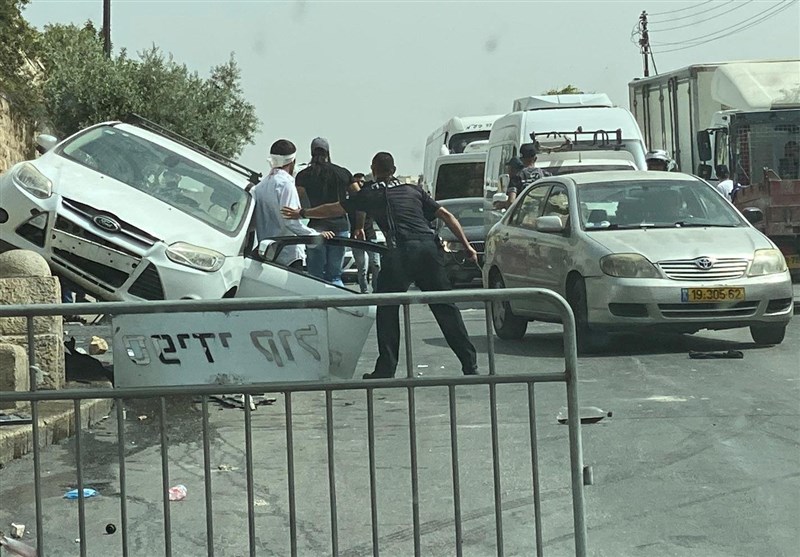 TEHRAN (Tasnim) – An Israeli driver slammed into a Palestinian youth near Lion's Gate in East Jerusalem, allegedly after his car was assaulted by a protester during the city's continuing unrest.
CCTV footage shows an automobile accelerating and swerving off to the side of the road, ramming a Palestinian man standing in the street, who appears to have participated in the ongoing protest in East Jerusalem al-Quds. The individual hurtles backwards and lands on the ground before hurriedly getting up and limping away. A crowd then forms around him and ushers him away.
The vehicle hit a barrier, turning partially on its side. A video taken on the ground shows the moment the car plowed into the man.
Several Palestinian youths were injured amid the chaos, according to local media. The driver, as well as a passenger in his car, sustained minor injuries.
The shocking incident occurred on Monday as Israeli forces raided Al-Aqsa Mosque on the nearby Temple Mount (known as Haram al-Sharif by Muslims), resulting in hundreds of injuries.
Jerusalem al-Quds has been rocked by several days of violence, stemming from growing anger over plans to forcibly evict Palestinian families from land inside annexed sections of East Jerusalem al-Quds. The territory will be handed over to Jewish settlers.