Fights Break Out between Pro-Palestine,Pro-Israel Protesters in NYC (+Video)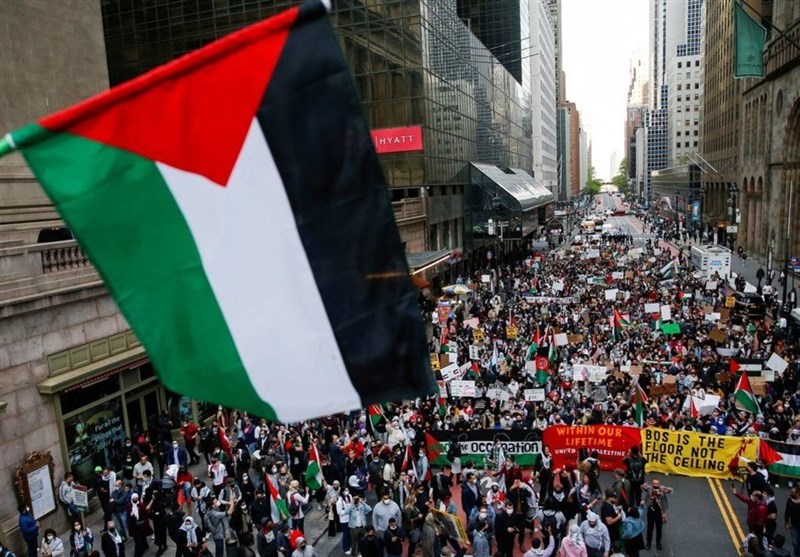 TEHRAN (Tasnim) – Two groups of opposing pro-Israel and pro-Palestine protesters clashed outside the Israeli consulate in New York City on Tuesday.
Hundreds of protesters gathered outside the Israeli consulate-general on Second Avenue on Tuesday, as the Israeli military bombed the Gaza Strip and Hamas and Islamic Jihad launched hundreds of rockets into occupied territories.
A local videographer captured a moment when several young men got into a fistfight, cursing each other out in Arabic and Hebrew, as a group of NYPD officers wearing facemasks tried to pry them apart.
Another video showed a group of young women in hijab walking past a fenced-in area with pro-Israel protesters. The group chanted "Free free Palestine" and one of them told the journalists, "You're getting the wrong story."
There were protests in other US cities as well. Demonstrators in Washington, DC, built a float in the shape of a tank and chanted calling Israel "terrorist" and "racist".
The most recent violence began as Israeli police clashed with Palestinians protesting the eviction of several families from the Jerusalem al-Quds neighborhood of Sheikh Jarrah, in favor of Israeli settlers. Over the weekend, hundreds were injured as protests took place outside the Al-Aqsa Mosque.
Palestinian resistance groups Hamas and Islamic Jihad launched rockets into occupied territories on Monday, and continued the barrage on Tuesday after an Israeli airstrike on Gaza demolished a 12-story high-rise.