No Place for Politics in Iran-IAEA Ties: Iranian Nuclear Chief
September, 12, 2021 - 14:39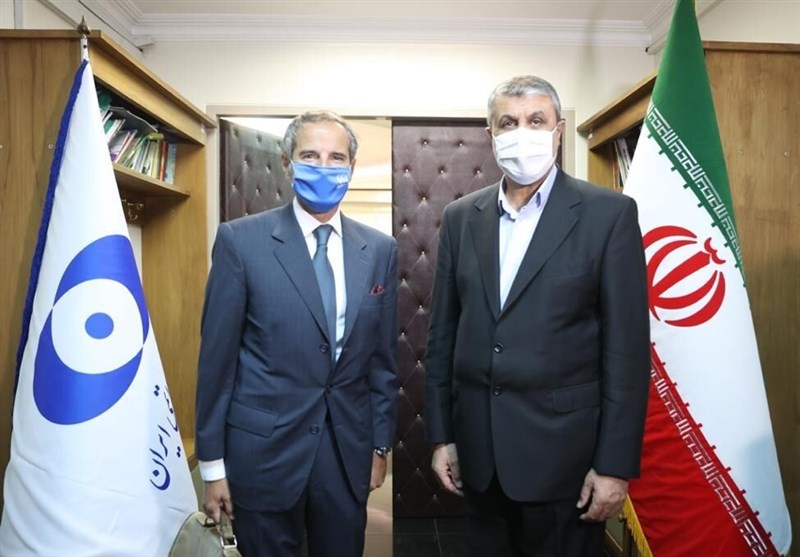 TEHRAN (Tasnim) – Head of the Atomic Energy Organization of Iran (AEOI) Mohammad Eslami hailed the "constructive" negotiations with the UN nuclear chief in Tehran, stressing that the interaction between Iran and the International Atomic Energy Agency is based on technical, not political issues.
Speaking to reporters at a joint press conference with Director General of the International Atomic Energy Agency (IAEA) Rafael Grossi in Tehran on Sunday, Eslami said they have held good and constructive negotiations.
All issues in the relations between Iran and the IAEA are basically technical, and political affairs have no place in the mutual interaction, he stated.
"The spirit of the negotiations is creation of opportunities for the promotion of interaction and cooperation within the framework of the International Atomic Energy Agency's rules and regulations," the Iranian official added.
Eslami also unveiled plans for a new visit to Iran by Grossi in the near future.
He noted that arrangements have been made for the IAEA experts to visit Iran for changing the memory cards containing data from the technical monitoring cameras.
Eslami said the previous memory cards will be sealed and kept in Iran, as the new recording cards will be inserted in the cameras.
What matters to Iran and the IAEA is building trust, Eslami noted, stressing that mutual trust must be preserved and the IAEA should also fulfill its legal duties to help Iran advance its nuclear energy program.
The one-day visit by Grossi is his first since Iranian President Ebrahim Raisi assumed office in August.
Last week, the Iranian Foreign Ministry's spokesman cautioned the IAEA's Board of Governors to avoid miscalculations in its upcoming ordinary meeting, warning that taking advantage of the IAEA for political purposes will draw a different response from Tehran.