Anti-Biden Chants Break Out at US College Football Games for 2nd Weekend (+Video)
September, 13, 2021 - 17:01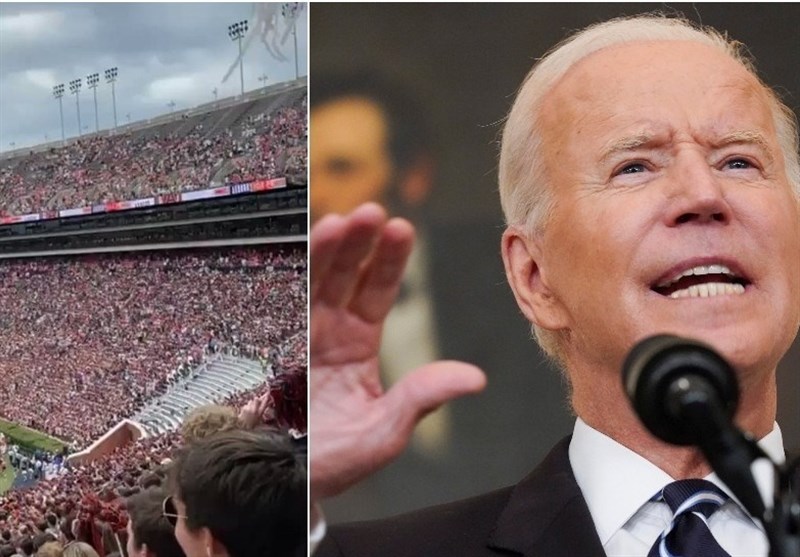 TEHRAN (Tasnim) – Explicit chants against US President Joe Biden were again reported at packed-out college football stadiums on the weekend in protest at the current US president.
They were chanted by sections of the crowd at the Coastal Carolina Chanticleers game against the Kansas Jayhawks, and the Alabama State Hornets match against the Auburn Tigers, both on Saturday, Newsweek reported.
Similar chanting was also heard at a Virginia Tech game and in Mississippi, where the Ole Miss Rebels took on the Austin Peay Governors.
The action is starting to become a regular fixture in the new season.
Clips of the chats were posted on social media. One of the videos shared over the weekend included fans chanting anti-Biden slogans inside a television studio which was covering a game.
It is the second consecutive weekend that anti-Biden chants have occurred at college football games across the country.
The same chants were heard at the Texas A&M Aggies game against Kent State Golden Flashes on September 4, Coastal Carolina Chanticleers game against Citadel Bulldogs on September 2, and Virginia Tech against UNC the following evening.
As there were claims on social media of the chants also taking place elsewhere, it seems the "movement" is growing as Biden is barely a year through his term.
In the comments section, some voiced pleasure that America "is finally growing up" while others pointed out what appeared to be just small groups bellowing at the top of their lungs.
Also on the weekend, fans in attendance at a Triller boxing show featuring the likes of Evander Holyfield and Anderson Silva voiced their support for commentator Donald Trump while UFC star Jorge Masvidal has attacked Biden and the alleged drug-fueled past of his son Hunter.
Donald Trump Jr., Donald Trump's eldest son, claimed the chants had demonstrated that "the media can't run cover for him anymore."
Speaking to right-wing news outlet The Daily Caller, Trump Jr. citied the withdrawal of troops from Afghanistan and the introduction of a vaccine mandate for tens of millions of workers as examples of why some people had expressed their disdain for the president.