Envoy Hits Back at US, E3 for Accusing Iran of Non-Cooperation with IAEA
September, 28, 2021 - 10:30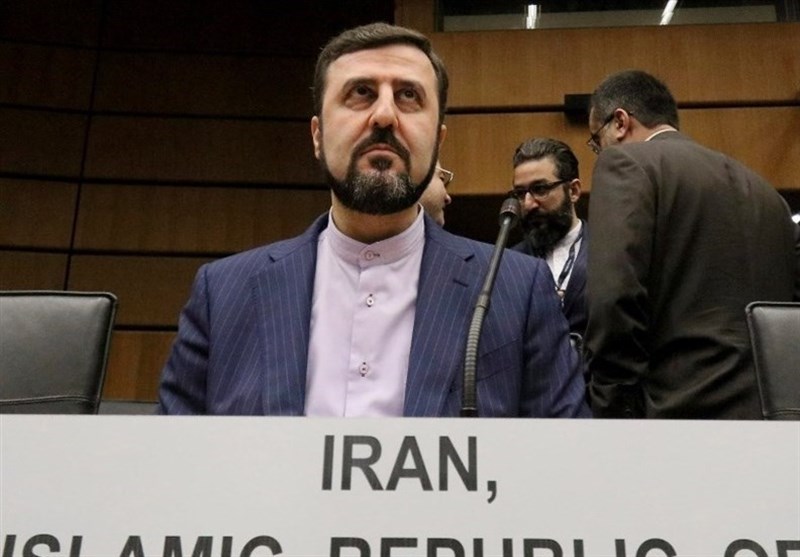 TEHRAN (Tasnim) – Iran's ambassador to the Vienna-based international organizations lashed out at the representative of the US and the European troika at the IAEA Board of Governors for deploring what they have called Tehran's insufficient cooperation with the UN nuclear agency.
In comments on Monday night, Kazem Gharibabadi responded to the remarks from the representatives of the US, the UK, France and Germany at the International Atomic Energy Agency's Board of Governors following a spiteful report from the UN nuclear watchdog who have accused Iran of insufficient cooperation.
He said the IAEA cannot remain silent on the Zionist regime's attacks against the Iranian nuclear sites and at the same time expect Iran's cooperation at the same facilities that have been damaged after the Israeli acts of sabotage.
"The Agency (IAEA), the US and the European troika must bear in mind that they cannot remain silent on the Israeli regime's terrorist measures and refuse to stop them and also call for the continuation of monitoring and existence of the Agency's (IAEA's) cameras at the facilities affected by the terrorist sabotage," Gharibabadi said.
When the IAEA's monitoring devises break down because of the Zionist regime's act of sabotage, Iran should not be expected to reinstall them at no cost to the Israeli regime or without any action by the IAEA and the countries claiming Tehran's non-cooperation, he added.
His comments came after the US issued a statement to the IAEA's 35-nation Board of Governors on Monday, saying Iran must stop denying the UN nuclear watchdog access to a workshop making centrifuge parts as agreed two weeks ago or face diplomatic retaliation at the agency's Board of Governors within days.
The European Union also told the IAEA board that Iran's failure to grant the IAEA access to the workshop was "a worrying development, contrary to the Joint Statement reached on 12 September 2021."
IAEA Director-General Rafael Grossi has alleged in a recent report that Iran was failing to fully comply with a joint statement issued by the two sides on September 12 by refusing to allow the agency access to the TESA Karaj Complex, a centrifuge component manufacturing workshop in north-central Iran.
The spokesperson for the Atomic Energy Organization of Iran warned the UN nuclear agency on Monday that adopting politically-tainted stances and issuing biased reports on Iran will undermine the constructive process of cooperation.
Behrouz Kamalvandi said Grossi and his colleagues are well aware that the agreement between Iran and the UN nuclear agency, declared within the framework of a joint statement issued on September 12, has excluded the monitoring devices (cameras) at the TESA Karaj Complex from the list of equipment which must be services or whose memory cards should be replaced, because the cameras at the Karaj site are under security investigation after a June act of sabotage.