Iran, Tajikistan Have Major Role in Afghan Peace, Raisi Says
October, 27, 2021 - 12:15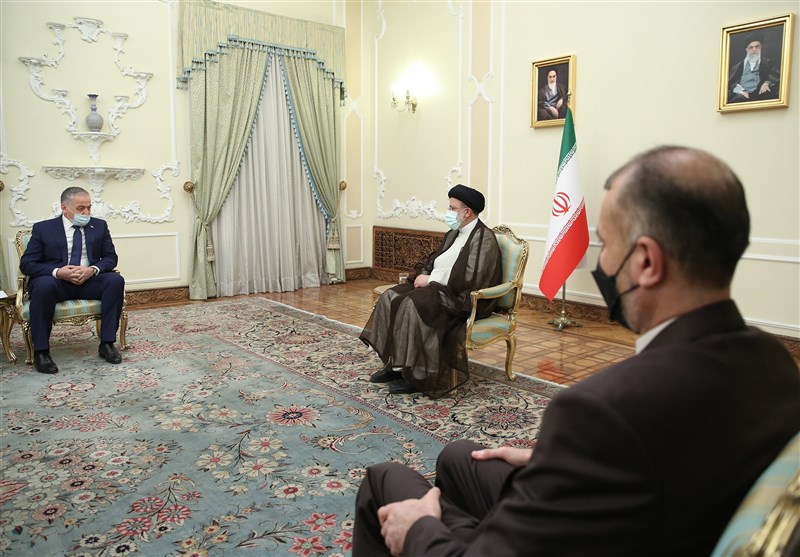 TEHRAN (Tasnim) – Iranian President Ebrahim Raisi highlighted the significant role that Iran and Tajikistan can play in ensuring peace and stability in Afghanistan, stressing the need for the formation of an inclusive Afghan government representing all ethnic and political groups.
In comments at a meeting with Foreign Minister of Tajikistan Sirojiddin Muhriddin, held in Tehran on Tuesday evening, Raisi stressed the importance of cooperation between the neighboring countries, especially Iran and Tajikistan, to establish peace and stability in Afghanistan, and said, "We seek the formation of an inclusive government, consisting of all ethnic and political groups in Afghanistan.
"There should be an inclusive government in Afghanistan that can ensure the security of Afghanistan and end war, bloodshed and fratricide," he stated, the Iranian government's website reported.
"Terrorist incidents in Afghanistan hurt the heart of every human being and there is no doubt that the Americans are involved in such incidents and do not want the Afghan people to achieve peace and security," the president warned.
Referring to the potential for developing political, economic and cultural relations between Iran and Tajikistan, he said, "During (my) recent visit to Tajikistan, a new chapter in bilateral relations began and we should use this opportunity in the interests of the two nations."
For his part, Muhriddin described Raisi's recent visit to Tajikistan as the beginning of a new chapter in relations between the two countries and said, "We are determined to increase the level of relations and cooperation with Tehran as much as possible and implement the agreements reached.
"Tajikistan believes that Iran's permanent membership in the Shanghai Cooperation Organization has many benefits and contributes to peace and stability in the region," the Tajik diplomat added.
Expressing Tajikistan's concern about the situation in Afghanistan, Muhriddin said that a government should be established there that respects all ethnic groups and people.