Protesters Clash in Boston over Mask, Vaccine Mandates (+Video)
November, 08, 2021 - 12:40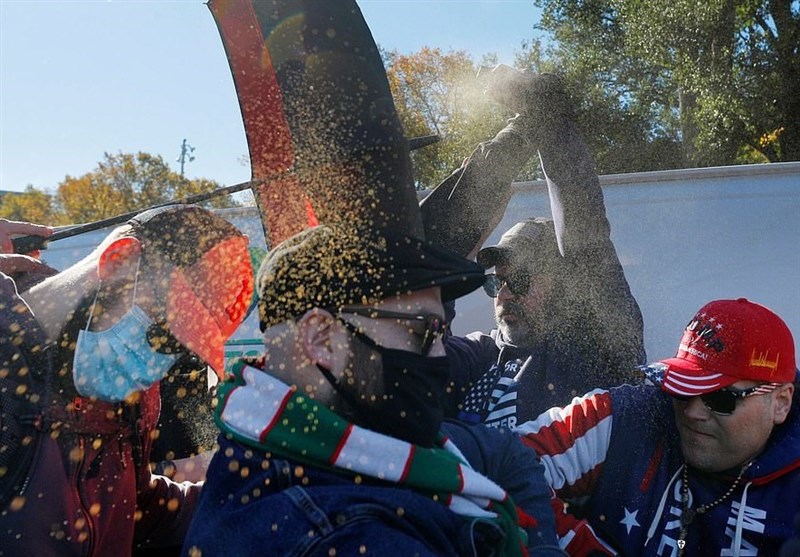 TEHRAN (Tasnim) – Police had to intervene after people protesting COVID-19 vaccine mandates and government restrictions clashed with counter-protesters over the weekend in Boston, Massachusetts.
A rally against COVID-19 public safety measures like mask and vaccine mandates brought dozens of protesters and even more counter-protesters to Boston Common on Sunday, where the participants breached police barricades and repeatedly clashed, according to The Boston Globe.
Police said two people were arrested, the Globe reported. The newspaper estimated that "scores" of right-wing protesters turned out, while hundreds of counter-demonstrators showed up — along with hundreds of police trying to keep them apart.
The event was organized by the Refounding Fathers Coalition and Super Happy Fun America, according to a local NBC affiliate in Boston, NBC10.
The protest's purpose was to "resist vaccine passports, face diapers, mass layoffs, and unconstitutional mandates," NBC10 reported.
The NBC affiliate added that issues began early in the event when a van's windshield was smashed and it drove into barricades.
Businesses near Boston common closed and nearby Emerson College warned its students of potential issues, according to NBC10.
Last month, mask requirements at most Massachusetts public schools were extended until Jan. 15, 2022.
Protests related to vaccine mandates and restrictions have grown increasingly intense. Last month, a COVID-19 testing unit tent was flipped over and destroyed by protesters in New York City.