Iran, Turkey to Hold Talks on Roadmap to Cooperation
November, 15, 2021 - 14:34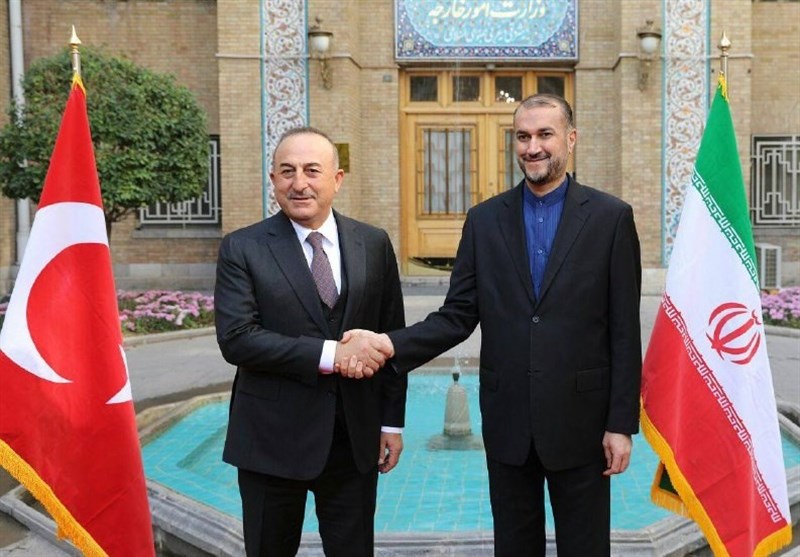 TEHRAN (Tasnim) – The foreign ministers of Iran and Turkey have agreed on the launch of negotiations on a roadmap to cooperation between the two neighbors.
Speaking at a joint press conference after a meeting with his Turkish counterpart in Tehran on Monday, Hossein Amirabdollahian said they have agreed to start diplomatic negotiations about the details of a roadmap to mutual cooperation between the two countries.
The Iranian top diplomat said they have agreed on expert talks about long-term agreements between the two states, expressing hope that the roadmap would be signed by the presidents during Turkish President Recep Tayyip Erdogan's next visit to Tehran.
Amirabdollahian also noted that good negotiations have been held about regional issues with his Turkish counterpart, saying Tehran and Ankara have many common views about regional affairs.
He said Iran and Turkey are monitoring the developments in Lebanon with seriousness and concern, condemn the recent assassination attack targeting the prime minister of Iraq, and pursue plans for the formation of an inclusive government in Afghanistan.
For his part, Turkish Foreign Minister Mevlut Cavusoglu said talks have been held about preparations for the seventh meeting of the supreme council of cooperation between the two neighbors.
It is necessary to sign many agreements in order to accelerate the promotion of relations between Turkey and Iran, he added, noting that experienced diplomats from the two countries should work on the formulation of the roadmap to cooperation.
Cavusoglu also said efforts are underway to arrange for the Turkish president to visit Iran before the end of 2021.
In a meeting with Cavusoglu in New York in September on the sidelines of the 76th session of the UN General Assembly, Amirabdollahian said Tehran was ready to host sessions of a joint commission with Ankara, which have been delayed for some time.
During the meeting, the Iranian foreign minister stressed the importance of holding regular consultations between the two neighboring countries especially in light of the new developments in the region.