IAEA After Common Grounds for Cooperation with Iran
November, 23, 2021 - 16:37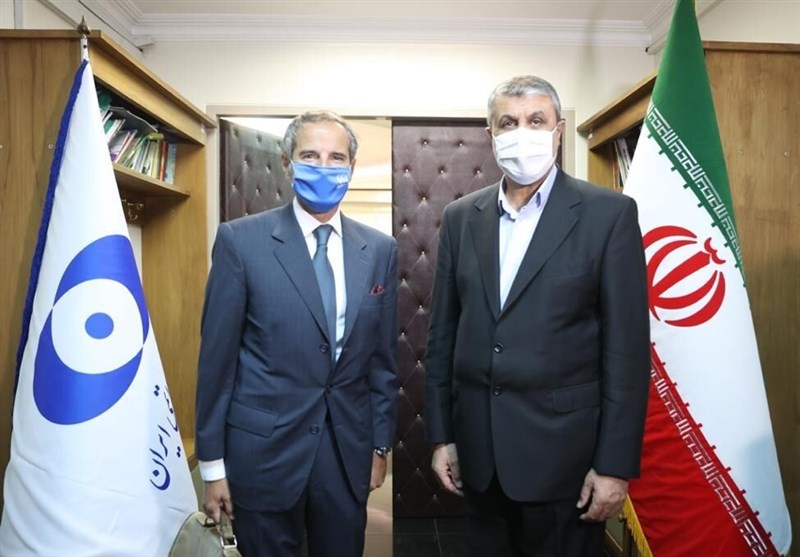 TEHRAN (Tasnim) – The International Atomic Energy Agency is in pursuit of common grounds to promote cooperation with Iran, the UN nuclear watchdog's chief said during a visit to Tehran.
In comments at a joint press conference with head of the Atomic Energy Organization of Iran Mohammad Eslami, held in Tehran on Tuesday, IAEA Chief Rafael Grossi said, "We agreed to continue our joint work on the clarification of a number of issues. We also agreed to continue and deepen the dialogue with the government of Iran. As you know, I have the honor to meet the (Iranian) foreign minister in a couple of hours."
He noted that his work in Tehran has been "intense."
"We are continuing our negotiations at this point with the view of finding common grounds. There are a number of issues that we are working on. We will multiply our efforts with the view of concluding our exchanges today on a positive note. We are working very hard," the UN nuclear chief added, Press TV reported.
Eslami, for his part, said Iran is determined to pursue its civilian nuclear activities, stressing that Tehran's nuclear activities are in full compliance with international regulations and treaties.
He stressed that the AEOI is set to resolve technical issues with the IAEA concerning their cooperation, away from the politicization of the matter.
Eslami highlighted that the UN nuclear watchdog has testified that there is no diversion in Iran's nuclear work and that it will not consider plots hatched by Iran's adversaries to politicize cooperation between the two sides.
"What is of paramount importance is that Iran is strong-minded to pursue its nuclear program. Utilization of all aspects of nuclear technology is high on our agenda and the IAEA will provide assistance in this regard," the senior Iranian official said.
Eslami underscored that Iran intends to generate at least 10,000 megawatts of nuclear power, especially by means of small power plants with a maximum production capacity of 300 megawatts.
He said the IAEA will encourage and support countries that possess relevant technology and industries to help Iran boost its nuclear power generation.