US, Israel Seeking to Damage Iran-Azerbaijan Ties, Raisi Warns
November, 29, 2021 - 10:28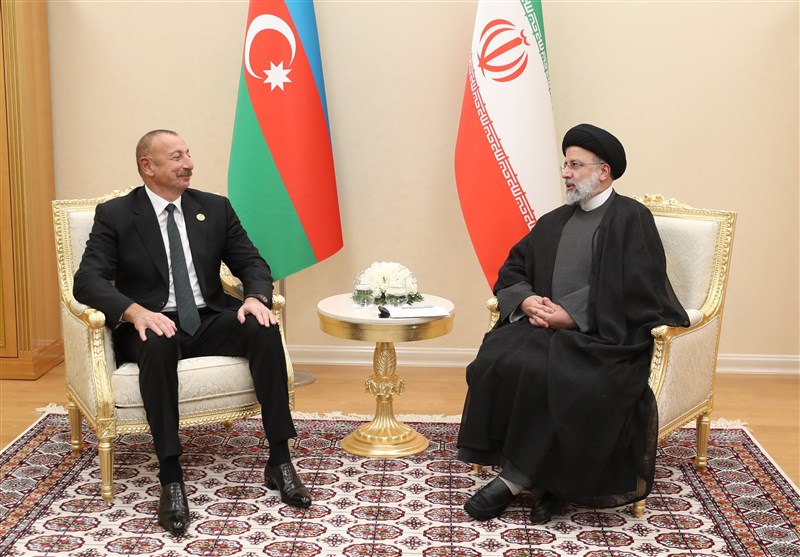 TEHRAN (Tasnim) – Iranian President Ebrahim Raisi warned of hostile attempts by the US and the Zionist regime to disrupt the relations between Tehran and Baku, calling for vigilance in the face of foreign interference that is detrimental to regional nations.
In a meeting on the sidelines of the ECO summit in Ashgabat on Sunday evening, Raisi and his Azeri counterpart Ilham Aliyev discussed a range of bilateral and regional issues.
Referring to the deep-rooted civilizational, cultural and religious bonds between Iran and the Republic of Azerbaijan, Raisi said, "The two countries have a long-standing and deep-rooted relationship and we will never allow these relations to be influenced by the enemies."
Reiterating Iran's support for the Republic of Azerbaijan's independence and territorial integrity, he said, "We do not allow insecurity and foreign interference in the affairs of countries in the region, and experience has shown that whenever countries in the region resolve their issues through understanding and negotiation, outsiders have not been able to interfere."
Expressing concern over insecurity and the presence of outsiders in the region, the Iranian president stated, "Daesh (ISIL or ISIS) and Zionist terrorism are two threatening factors in the region and must be confronted."
Warning against the objectives of the US and the Zionist Regime to disrupt relations between Iran and the Republic of Azerbaijan, the Iranian president said, "Foreign interference is to the detriment of the countries of the region and we must be vigilant against their conspiracy."
He also welcomed the request of the president of Azerbaijan to strengthen economic relations between the two neighbors and develop transit routes with the presence of Iranian companies.
For his part, the Azeri president said, "A special work group will be formed from senior government officials to follow up and implement the agreements reached."
Aliyev praised Iran's unprecedented support for the independence of the Republic of Azerbaijan, according to the Iranian administration's website.
"Baku attaches special importance to its fraternal relations with Tehran and we will not allow any damage to happen to these relations," the Azeri leader underlined.
Referring to the talks and contacts between the officials of the two countries to clear up some misunderstandings, he added, "We are committed to the security of the border areas and will not allow any country to disrupt bilateral relations."
Highlighting the importance of transit and road transport, the Azeri president said, "We are determined to solve the problem of transit and provide the ground for the presence and activity of Iranian companies in Azerbaijan."
"This meeting will be a turning point in relations between the two countries and we are committed to securing the regional interests of the Islamic Republic of Iran," the Azeri leader noted.