FM Underlines Iran's Resolve to Boost Ties with African Nations
December, 02, 2021 - 13:05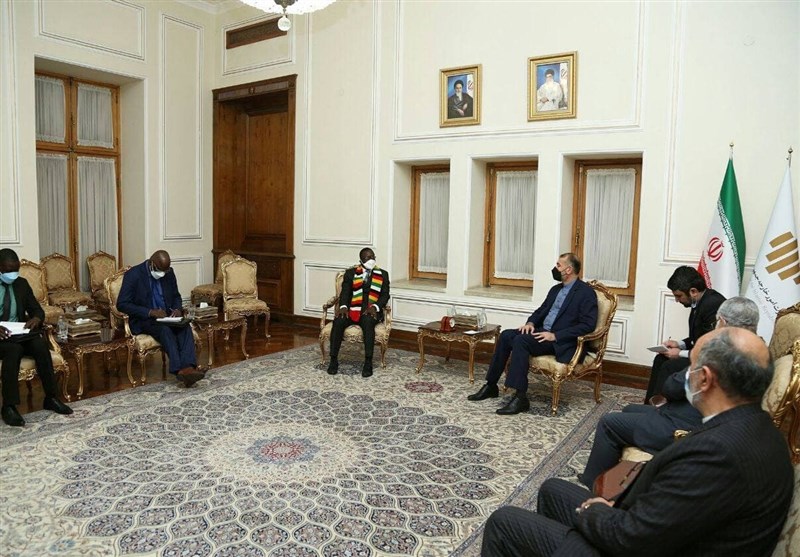 TEHRAN (Tasnim) – Iran's Foreign Minister Hossein Amirabdollahian stressed the importance that the Islamic Republic attaches to development of ties with countries in Africa.
Zimbabwean Deputy Foreign Minister David Musabayana who is in Tehran for talks with Iranian officials met with Amirabdollahian on Wednesday afternoon.
At the meeting, the Iranian top diplomat referred to the seriousness of the new administration about deepening ties with African nations, underlining the expansion of cooperation with Zimbabwe in political, economic and cultural fields.
Amirabdollahian said the two countries have the potential to expand trade and economic cooperation using innovative methods in the fields of extra-territorial cultivation, export of machinery, selling petrochemical products and providing technical-engineering services.
He described the parliamentary relations between Iran and Zimbabwe as important and expressed hope that the exchange of delegations by the parliaments of the two countries at different levels with the aim of activating parliamentary diplomacy and paving the ground of an expansion of bilateral cooperation will be seriously put on the agenda, according to the Foreign Ministry's website.
In the meeting, the Iranian foreign minister also said it is important that countries which are under the oppressive sanctions of the US and some other Western governments work together at international organizations to fight against illegal and extra-territorial policies regarding sanctions.
David Musabayana, deputy Foreign Minister of Zimbabwe, also briefed Amirabdollahian on his meetings with relevant Iranian officials, declaring Zimbabwe's readiness to hold the 9th meeting of the joint economic commission of the two countries in Tehran.
The Zimbabwean deputy foreign minister described as important Iran's cooperation with his country in the fields of agriculture and healthcare and in facilitating the exports of Iranian medicines into the Zimbabwean market and also Iran's cooperation in allowing the use of its experience in different areas including the development of medium and small businesses, energy and fuel.