Iran Welcomes Arabs, Europeans' Revision of Policies on Syria
December, 06, 2021 - 15:08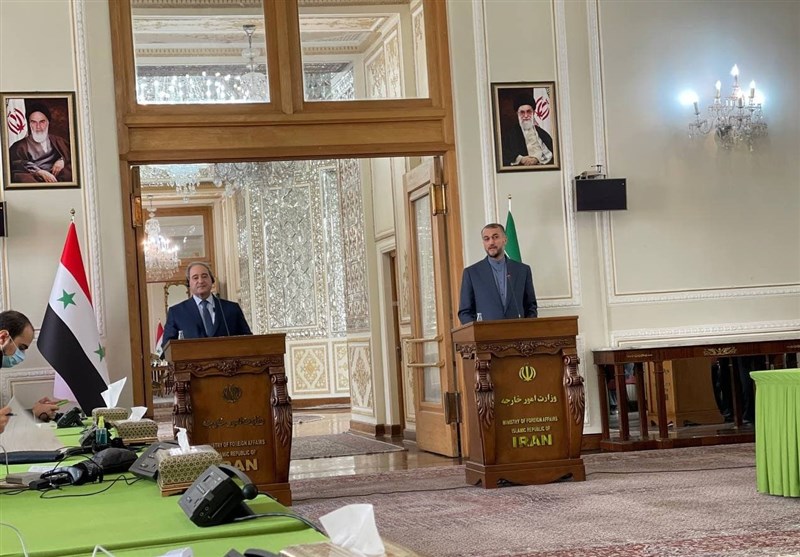 TEHRAN (Tasnim) – The foreign minister of Iran welcomed a change in the policies of some Arab and European states towards Syria that has resulted in the reopening of their embassies in Damascus.
In remarks at a joint press conference with his Syria counterpart Faisal Mekdad, held in Tehran on Monday, Iranian Foreign Minister Hossein Amirabdollahian said the Islamic Republic condemns the presence of foreign forces in Syria without coordination with the Damascus government.
"We welcome the revision of foreign policies of certain Arab and European countries on Syria and the reopening of a number of embassies (in Damascus)," the Iranian foreign minister added.
Pointing to the fruitful talks with his Syrian counterpart about the growing relations between the two countries, Amirabdollahian said they have focused on economic cooperation and development of comprehensive ties.
The top Iranian diplomat then denounced the Zionist regime's occasional attacks on Syria, adding, "The fake and terrorist Israeli regime is the root cause of insecurity in the region and West Asia. We believe that limited compromise between some Arab states and the Zionist regime is not in the interests of regional peace and security."
For his part, the visiting Syrian foreign minister said he has held talks about various topics with Amirabdollahian and has extended an invitation from Syria President Bashar al-Assad to Iranian President Ebrahim Raisi to visit Damascus.
He noted that economic relations between Syria and Iran were the main subject of their talks.
Mekdad also noted that the Zionist regime's attacks on Syria will not go unanswered. "Those who attacked Syria are its enemies and supported the terrorists. Today, Israel is doing so. The way we respond today may be different from tomorrow as our today's response may is different from yesterday."
The Syrian diplomat also pointed to negotiations about the developments in Iraq and Afghanistan.
Mekdad has separately met with Iranian President Raisi during his stay in Tehran.