Iran's President Urges Vigilance against Extremism, Takfiris
January, 20, 2022 - 14:41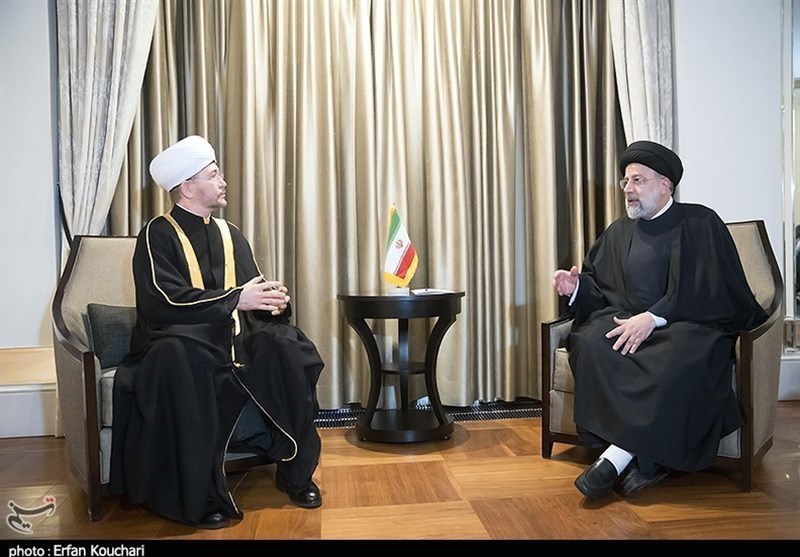 TEHRAN (Tasnim) – Iranian President Ebrahim Raisi called for increased Muslim vigilance against extremist and Takfiri groups that have harmed Islam in the name of the religion.
In a meeting with the Grand Mufti of Russia, held in Moscow on Thursday, Raisi said what causes concerns at the present time is extremism.
"Extremism and Takfirism have greatly harmed Muslims," the Iranian president noted.
Urging Muslim vigilance against the Takfiri currents, he said a series of groups have damaged the divine religion in the name of Islam.
Pointing to the cooperation between Iran and Russia in Syria, the president said the two countries' stances were united not against heretics, but against the stooges of arrogance and the Zionist regime.
Hailing the close relations between Tehran and Moscow, Raisi described his trip to Russia as a milestone in the economic, political and cultural relations between the two countries.
For his part, Head of the Council of Muftis of Russia Rawil Gaynutdin expressed delight at the Iranian president's visit, saying Wednesday's meeting between the presidents of Iran and Russia was highly significant for Russian Muslims.
He also hailed Raisi's symbolic move to say prayers at the Kremlin.
Raisi arrived in Moscow on Wednesday and held a meeting with his Russian counterpart.
The Iranian president is accompanied by the ministers of foreign affairs, oil, and economy in the trip.
This is Raisi's third foreign trip after taking office in August 2021. He has already visited Tajikistan and Turkmenistan.