Saudi Bombing of Yemen Kills Internet, Leaves Over 150 Human Casualties (+Video)
January, 21, 2022 - 12:59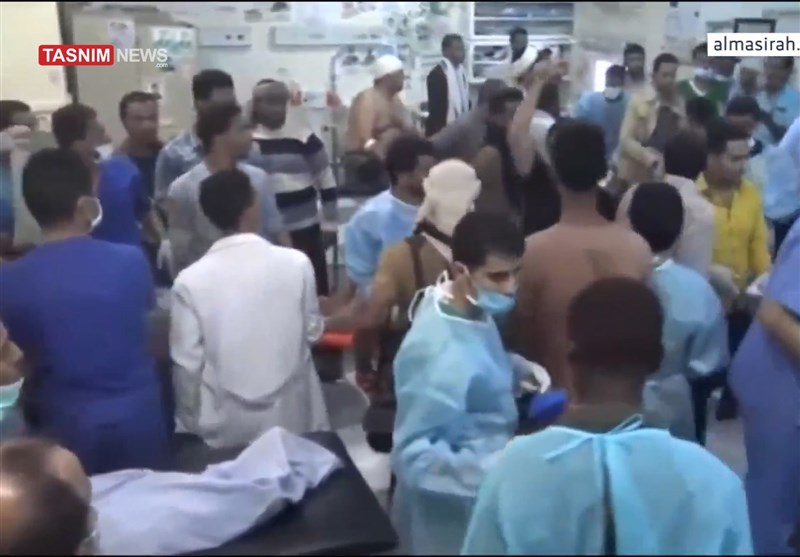 TEHRAN (Tasnim) - Saudi warplanes continue to bomb residential neighborhoods and infrastructures in Yemen's western city of Hudaydah, leading to shot down of internet communication and civilian casualties.
Yemen lost its connection to the internet nationwide early Friday after Saudi-led airstrikes targeted a site in the contested city of Hudaydah, an advocacy group said, plunging the war-torn nation offline, NPR reported.
NetBlocks said the disruption began around 1 a.m. local and affected TeleYemen, the state-owned monopoly that controls internet access in the country.
Yemen was "in the midst of a nation-scale internet blackout following airstrike on (a) telecom building," NetBlocks said.
The San Diego-based Center for Applied Internet Data Analysis and San Francisco-based internet firm CloudFlare also noted a nationwide outage affecting Yemen beginning around the same time.
The Yemeni Al-Masirah satellite news channel said the strike on the telecommunications building had killed and wounded people. It released chaotic footage of people digging through rubble for a body as gunshots could be heard. Aid workers assisted bloodied survivors.
A source said incessant overflights by Saudi aircraft are hampering rescue efforts.
Meanwhile, at least six civilians were killed and 18 others injured after Saudi jets heavily bombed residential areas in Hudaydah late Thursday, Lebanon's al-Mayadeen television reported.
They struck a communications center in the city some 145 km southwest of the capital Sana'a, provincial health office director Ali al-Ahdal told Yemen's al-Masirah television. As a result, a three-story building was leveled to the ground.
In Sa'ada, Saudi warplanes attacked the al-Dhakhira prison, leaving at least 140 people dead or injured, al-Masirah reported.
"The hospitals are full of martyrs and the wounded, and we desperately need medicine and medical equipment," Sa'ada governor Mohammed Jaber Awad told the television.
"Many international organizations had previously visited the prison."
The frenzied bombing of Yemen by the Saudi-led coalition has intensified since Yemeni forces launched rare drone and missile strikes against strategic targets deep inside the UAE in retaliation.
On Thursday night, Saudi warplanes carried out a wave of aerial attacks on the Yemeni capital city of Sana'a as well, but there were no immediate reports about possible casualties and the extent of damage.
UN Special Envoy for Yemen Hans Grundberg has just left Riyadh after concluding a visit to Saudi Arabia. He met Saudi Vice Defense Minister Prince Khalid bin Salman and other Saudi interlocutors, Dujarric said.
During his meetings, Grundberg denounced the recent wave of military escalation, including the heavy airstrikes on Sana'a.
Saudi Arabia, backed by the United States and regional allies, launched the war on Yemen in March 2015, with the goal of bringing the government of former Yemeni president Abd Rabbuh Mansour Hadi back to power and crushing the Ansarullah movement.
The war has left hundreds of thousands of Yemenis dead and displaced millions more. It has also destroyed Yemen's infrastructure and spread famine and infectious diseases there.
Despite heavily-armed Saudi Arabia's incessant bombardment of the impoverished country, the Yemeni armed forces and the Popular Committees have grown steadily in strength against the Saudi-led invaders and left Riyadh and its allies bogged down in the country.