Iran's Lead Negotiator Holds Talks with EU, Russia in Vienna
January, 28, 2022 - 14:19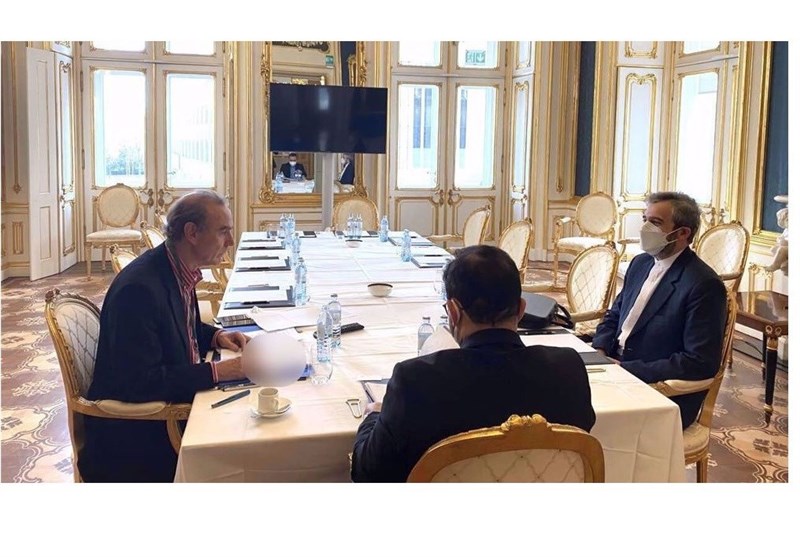 TEHRAN (Tasnim) – Iran's top negotiator in the Vienna talks on the revival of the 2015 nuclear deal has held meetings with the representatives of the European Union and Russia to discuss draft texts on guarantees and verification of the removal of the US sanctions.
Ali Baqeri arrived at the Palais Coburg in Vienna on Thursday and held a meeting with European Union deputy foreign policy chief Enrique Mora, who is in charge of coordinating sessions attended by delegates of the P4+1 group of countries –the UK, France, Russia and China plus Germany.
The talks on sanctions removal and draft texts began with a meeting between Iran's chief negotiator and Mora, followed by bilateral and multilateral meetings.
Baqeri also met with Russia's top negotiator to the Vienna talks, Mikhail Ulyanov, who later confirmed it in a tweet and said, "The Vienna Talks are underway. A meeting with the Head of delegation of Iran Mr. A. Bagheri Kani."
In a separate tweet on Thursday, Ulyanov responded to allegations made by Bloomberg that he had estimated it would take more time to reach an agreement than he previously thought possible, Press TV reported.
"A few important words were missed by Bloomberg. I said; if the Vienna Talks continue at the current pace… I don't rule out that the negotiations can be expedited through joint efforts of all participants. The talks are already at an advanced stage," he said.
The eighth round of talks between Tehran and the remaining signatories to the 2015 Iran deal, officially known as the Joint Comprehensive Plan of Action (JCPOA), is focused on the removal of anti-Iran sanctions.
Iran has already ruled out the possibility of direct talks with the US, saying it might reconsider that position only if a good agreement is within reach to restore the landmark deal.