At Least 10 Killed in Buffalo's Racially Motivated Mass Shooting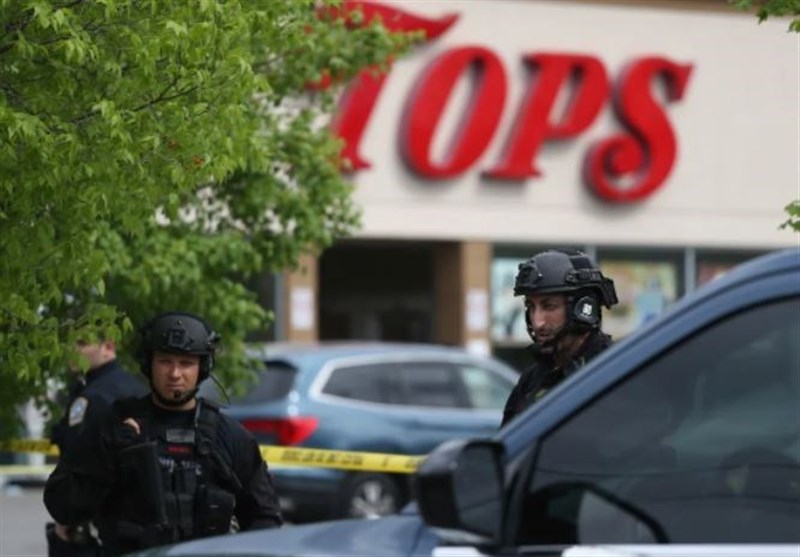 TEHRAN (Tasnim) – A white 18-year-old wearing military gear and livestreaming with a helmet camera opened fire with a rifle at a supermarket in Buffalo, US state of New York, killing 10 people and wounding three others Saturday.
The US authorities described the attack as "racially motivated violent extremism."
Police said he shot 11 Black and two white victims before surrendering to authorities in a rampage he broadcast live on the streaming platform Twitch, CBC reported.
Later, he appeared before a judge in a paper medical gown and was arraigned on a murder charge.
The massacre sent shockwaves through an unsettled nation gripped with racial tensions, gun violence and a spate of hate crimes. In the day prior to the shooting, Dallas police said they were investigating a series of shootings in Koreatown as hate crimes. The Buffalo attack came just one month after another mass shooting on a Brooklyn subway train wounded 10 people.
The suspected gunman in Saturday's attack on Tops Friendly Market was identified as Payton Gendron, of Conklin, N.Y., about 320 kilometres southeast of Buffalo.
It wasn't immediately clear why Gendron had traveled to Buffalo and that particular grocery store. A clip apparently from his Twitch feed, posted on social media, showed Gendron arriving at the supermarket in his car.
The shooting came little more than a year after a March 2021 attack at a King Soopers grocery in Boulder, Colo., that killed 10 people. Investigators have not released any information about why they believe the man charged in that attack targeted the supermarket.
The Erie County Sheriff's Office expressed its condolences, adding that Sheriff John Garcia "has ordered all available resources and personnel to assist" police.
New York Governor Kathy Hochul tweeted, "I am closely monitoring the shooting at a grocery store in Buffalo. We have offered assistance to local officials. If you are in Buffalo, please avoid the area and follow guidance from law enforcement and local officials."
A US law enforcement official said the scene was no longer active and there were no other suspects outstanding.
"We are shocked and deeply saddened by this senseless act of violence and our thoughts and prayers are with the victims and their families," Tops Friendly Markets said in a statement. "Our top priority remains the health and well-being of our associates and customers. We appreciate the quick response of local law enforcement and are providing all available resources to assist authorities in the ongoing investigation."