FM: Iran Ready to Proceed with JCPOA Talks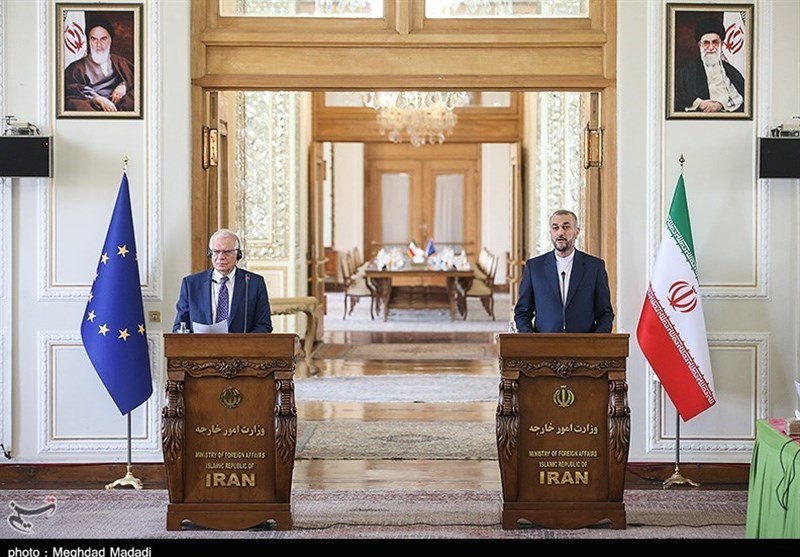 TEHRAN (Tasnim) – Iranian Foreign Minister Hossein Amirabdollahian expressed the country's readiness to resume the negotiations for the revival of the 2015 nuclear deal in the coming days, stressing that Tehran must fully enjoy the economic benefits of the JCPOA.
"We are ready to resume the Vienna talks within the next days," Amirabdollahian announced at a joint press conference with the European Union foreign policy chief, Josep Borrell, held in Tehran on Saturday.
Borrell has visited Iran as part of efforts to break an impasse between the parties to the Joint Comprehensive Plan of Action (JCPOA) over the agreement's revival and the removal of sanctions against Iran.
The top Iranian diplomat expressed hope at the press conference that the US would "this time" pursue a "realistic and fair approach" and act responsibly.
Iranian officials do not directly negotiate with Americans as the US unilaterally withdrew from the deal in 2018 and re-imposed sanctions against Iran. During the talks in Vienna, which have been on hold since mid-March, US negotiators communicated with the parties to the deal through European intermediaries, Press TV reported.
The Iranian foreign minister said he held "detailed, precise and deep" talks with Borrell on the JCPOA revival negotiations, adding, "We are going to break the stalemate in the Vienna talks and end the tension that has existed in recent days."
What matters to Iran is that the country must fully enjoy the economic benefits of the 2015 nuclear deal, Amirabdollahian stated, noting that any issue that may undermine Iran's full economic benefits will be unacceptable to Iran.
"We are trying to overcome the problems and the existing points of disagreement through the negotiations that will soon restart," he added.
For his part, Borrell said the talks on reviving the JCPOA will resume soon in the coming days.
"We are expected to resume talks in the coming days and break the impasse. It has been three months and we need to accelerate the work. I am very happy about the decision that has been made in Tehran and Washington," the top EU diplomat said.
Since April 2021, several rounds of talks between Iran and the five remaining parties to the JCPOA -- Britain, France, Germany, China and Russia -- have been held in the Austrian capital to bring the US back into the Iran deal.
The Vienna talks, however, exclude American diplomats due to their country's withdrawal from the deal.