Iran to Discuss Caspian Security at Upcoming Summit: President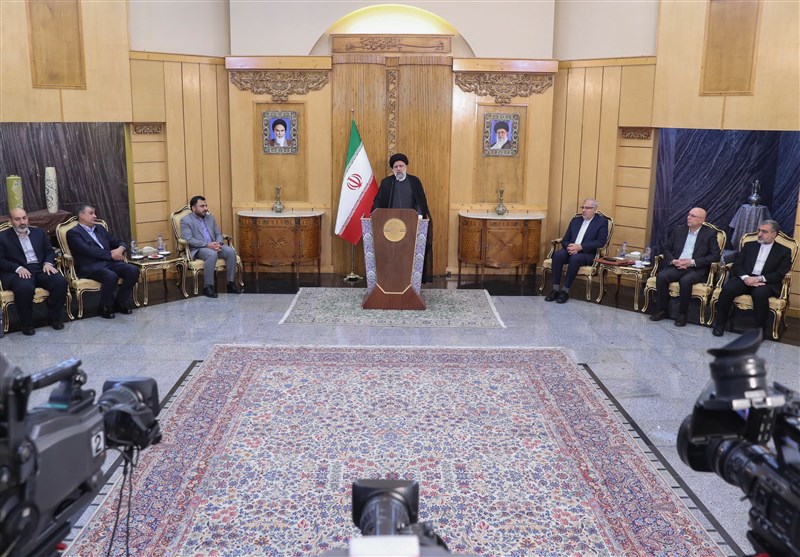 TEHRAN (Tasnim) – Iranian President Ebrahim Raisi said he is going to engage in a series of major discussions at the 6th Caspian Summit in Turkmenistan, including talks on the Caspian Sea regime, peace, and the prohibition of the presence of outsiders in the sea.
Speaking to reporters in Tehran before leaving for Ashgabat on Wednesday morning, President Raisi said, "This visit is taking place at the invitation of the esteemed president of the brotherly and friendly country of Turkmenistan in order to attend the Summit of the Caspian Littoral States."
Describing the Caspian Sea as a common heritage for its littoral states and more than 270 million people living in the region, he added, "We have good relations with the littoral states of the Caspian Sea, but in addition to reviewing the legal regime of the Caspian Sea and peaceful use of the sea for the purpose of improving security at the sea, what will be discussed at the Sixth Summit of the Caspian Sea Littoral States is cooperation between countries in the fields of transport, transit, trade, management of marine living resources, environment, as well as preventing the presence of outsiders in the sea, which is also agreed upon by all coastal countries."
"In addition to participating in this summit and talks with the leaders of the littoral states, we will also have bilateral talks following the previous talks with the president of Turkmenistan," the Iranian president added, according to his official website.
Referring to the very good relations between Iran and Turkmenistan in the last 30 years, Raisi stated, "Despite the obstacles that coronavirus and some other issues have created in the relations between the two countries over the past few months, today we see that in addition to transit and gas swaps, strengthening trade and economic relations between the two countries is also on the agenda."
There are indications that the level of relations has increased in the past few months, especially in the field of economic and trade between the two countries, President Raisi added, noting, "We hope that this visit could establish and expand the cordial cooperation that exists between the two countries in playing a role in regional and international fields."