Dutch Farmers Continue Violent Protests against Limiting Nitrogen Oxide Emissions (+Video)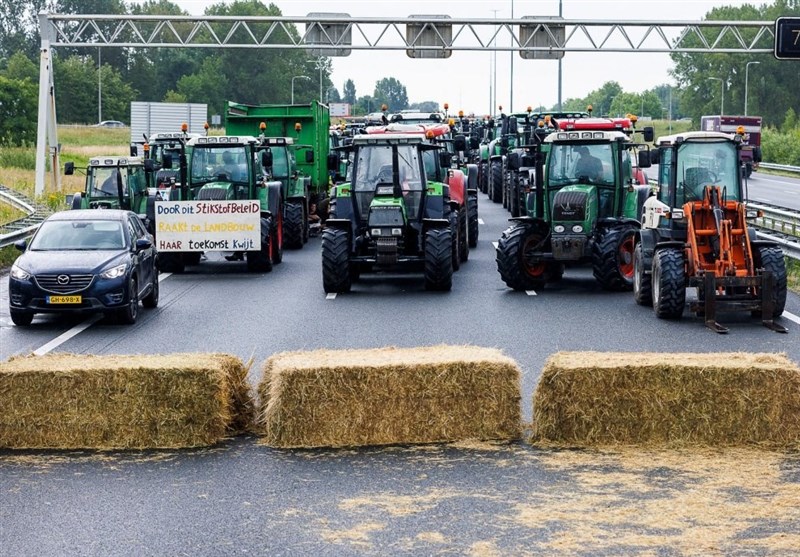 TEHRAN (Tasnim) – Protests by Dutch farmers against the government's nitrogen policy have become increasingly violent, with farmers breaking a police blockade near the home of Minister Christianne van der Wal on Tuesday evening.
The government's nitrogen reduction policy obliges farmers to make their businesses more sustainable, relocate or quit.
In addition to breaking the blockade, the rioting farmers on Tuesday evening also destroyed a police car and emptied a slurry tank near van der Wal's residence in Hierden, in the province of Gelderland.
In Stroe, also in Gelderland province, a police car was attacked by rioters with hammers and steel pipes. Earlier on Tuesday, on the highway near Stroe, police officers used an electroshock weapon after farmers punctured the tires of police cars and motorcycles.
A total of ten people were arrested on Wednesday for offenses during the protests.
In recent days, there have also been several roadblocks by tractors, and actions at municipal and provincial houses. Farmers set fire to hay bales along several highways, which led to delays and traffic jams. On June 22, thousands of farmers came together in Stroe to demonstrate.
On Wednesday, over a hundred tractors blocked the highway near Oldenzaal, east Netherlands.
Dutch farmers began protesting in October 2019 over proposals to limit livestock farming in order to solve the nitrogen crisis. Until recently, the protests have been generally peaceful.
The government has said the Netherlands needs far-reaching measures to improve nature, climate and water quality, and achieve nitrogen reduction targets, especially for agriculture. This would require agricultural entrepreneurs to accelerate the transition to circular agriculture by 2030.
"A vital rural area with healthy nature, with prospects for entrepreneurs and the economy, whether you work in industry, construction or the agricultural sector, that is the ultimate goal and that is why this radical, but necessary transition of the rural area is necessary," Van der Wal said.
Meanwhile, Minister of Agriculture, Nature and Food Quality Henk Staghouwer said: "My main priority is that farmers have and keep a future in the Netherlands. I am proud of the innovative strength and adaptability of our farmers and horticulturists. Many are already working on more sustainable production, but more can and should be done."
In the government coalition, all parties have agreed that by 2030, 50 percent less nitrogen must be emitted in the Netherlands. The provinces must determine before July 1, 2023 how they intend to achieve this goal.
Due to differences in the quality of nature, water and soil in different areas of the Netherlands, nitrogen reduction targets will also vary from 12 to 70 percent.
However, farmers have called these plans unrealistic.
Prime Minister Mark Rutte expressed his anger on Wednesday, saying a group of farmers had ruined the demonstrations for those who want to protest in a civilized way.
On Tuesday, he had said: "It is not acceptable in this country to create dangerous situations or intimidate people."
However, Minister Van der Wal conceded: "The plans have a huge impact on a lot of families," but added that farmers have eight years to achieve the government's nitrogen reduction goals, which should be sufficient.
Last week the leader of the farmers' party BoerBurgerBeweging, Caroline van der Plas, said the debate should not only be about the behavior of the farmers but also about the way in which the government treats farmers. "Please note: I do not approve of riots," she said. "You do not destroy things, do not visit people at home. But these riots go deeper than just the nitrogen plan."
Nevertheless, the House of Representatives has overwhelmingly supported the cabinet's nitrogen policy. Motions by opposition parties to reject or substantially change the policy did not receive a majority in a vote on Tuesday afternoon.