Iranian FM Chides US for Attending Doha Talks without Initiative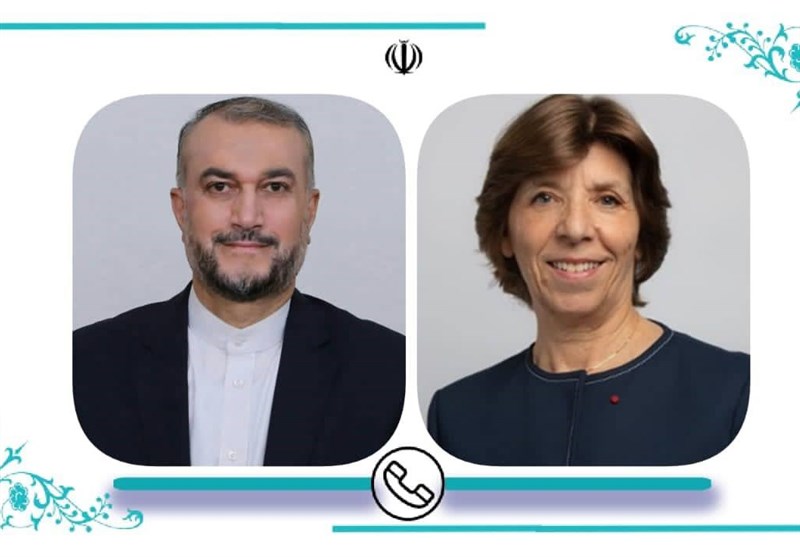 TEHRAN (Tasnim) – The Iranian foreign minister reaffirmed Tehran's resolve to strike a good and lasting deal in the talks on the removal of sanctions, criticizing the US for attending the most recent round of negotiations in Doha without any approach based upon political initiatives or progress.
In a telephone conversation with Minister for Europe and Foreign Affairs of France Catherine Colonna on Sunday, Hossein Amirabdollahian said Iran evaluates the latest round of talks in Doha for the revival of the Joint Comprehensive Plan of Action (JCPOA) and removal of sanctions as positive.
Deploring the US negotiators for taking part in the Doha talks "without an approach based upon initiatives and progress", the Iranian foreign minister said, "We believe that political initiatives should not be replaced by the repetition of the previous stances."
Calling on the US to seize the opportunity for diplomacy, Amirabdollahian said, "The road to diplomacy is currently open. We are serious and sincere in reaching the final point for a good and sustainable deal and have always put forward our suggestions and positive ideas in the negotiations."
"The Islamic Republic of Iran has always honored its commitments and expects the other parties to carry out their undertakings correctly as well," he added.
Congratulating his French counterpart on taking office, Amirabdollahian expressed hope for the expansion of relations between Tehran and Paris in various fields.
Iran is prepared to elevate the level of cooperation with France on the basis of mutual respect, he concluded.
For her part, Colonna welcomed the close relations between France and Iran, calling for the continuation of the nuclear talks for the removal of anti-Iran sanctions.
Stressing the need to grasp the opportunity for negotiations and make efforts to reach an agreement with mutual consent, the top French diplomat said Paris believes that the window of opportunity, which is still open, should be used in the best way possible.
Making a deal is better than not having a deal, she added.
Colonna finally expressed hope that the new ambassadors of France and Iran would take up their posts soon in order to facilitate the promotion of cooperation between the two countries.