Iranian Flotilla Back Home after Overseas Mission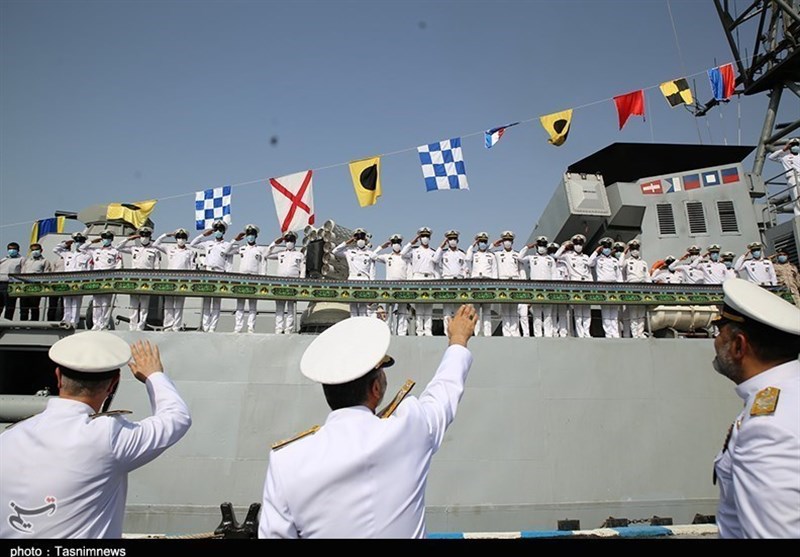 TEHRAN (Tasnim) – The 83rd fleet of warships of the Iranian Navy returned to the southern port city of Bandar Abbas on Sunday after completing a mission that took 93 days to complete.
The combat-intelligence naval fleet, with Alvand destroyer acting as the flagship, berthed at Bandar Abbas on Sunday morning and was welcomed in a ceremony attended by Navy Commander Rear Admiral Shahram Irani.
During its three-month mission, the flotilla escorted Iranian trade vessels and oil tankers in the Red Sea and international waters at a distance of 2,200 kilometers away from the Iranian border.
In comments at the event, Rear Admiral Irani praised the naval forces for protecting the country's economic interests.
He noted that the presence of the Iranian Navy in international waters has discouraged the enemies from taking any hostile action, pointing to the Israeli regime's activities in the Red Sea.
The commander also said that the Iranian Navy's move to unveil its first division of watercraft carrying various military unmanned aerial vehicles, which coincided with the 83rd fleet's operation in the Red Sea, could "change the regional equations."
The naval division that joined the Iranian Navy's southern fleet in July consists of military ships and submarines carrying a broad range of combat, reconnaissance and suicide drones manufactured by the Iranian Army and the Defense Ministry in cooperation with the knowledge-based centers, including Pelican, Homa, Arash, Chamrosh, Jubin, Ababil-4 and Bavar-5 drones.