Iran Underlines Release of Afghanistan's Frozen Assets, Calls for Int'l Support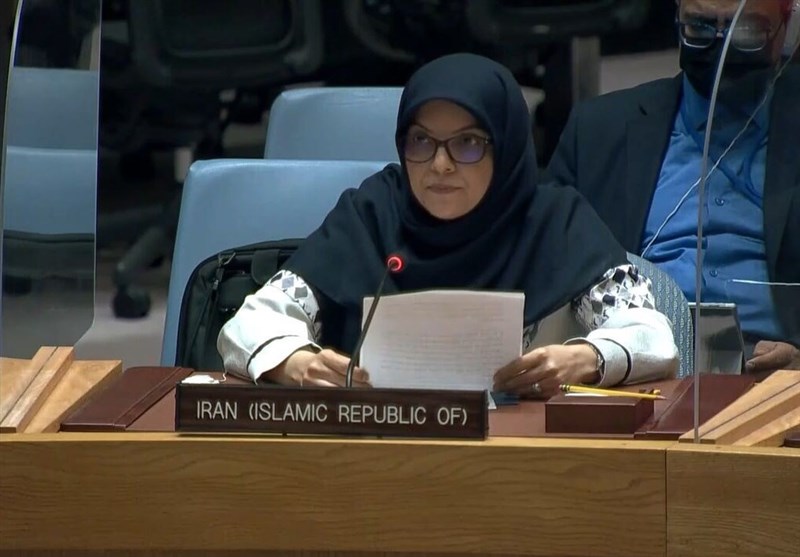 TEHRAN (Tasnim) – Iran's deputy ambassador to the United Nations urged the international community to continue to support Afghanistan, underlining that the release of the country's frozen assets "should not be politicized or conditional."
Zahra Ershadi made the remark before the UN Security Council meeting on the "Situation in Afghanistan" that took place in New York on Monday afternoon.
The ambassador noted that these frozen assets belonged to the Afghan people and were vital to saving lives.
The following is the text of her speech:
Mr. President,
I thank Russia for requesting this important meeting and I thank you Mr. President for convening the meeting. I also thank the briefers for their briefings.
Just a year after the irresponsible withdrawal of foreign forces and the Taliban's takeover, Afghanistan is now dealing with a number of interconnected and overlapping crises.
The humanitarian situation is particularly dire. Around 25 million people are now living in poverty, with "many who go hungry." Prolonged drought is also exacerbating food insecurity and human rights continue to be violated particularly against women and girls, who are still denied access to education. Meanwhile, the de-facto authorities have yet to fulfill their international obligations.
This Catastrophic situation entails responsibility and obligations for those foreign forces that illegally invaded and occupied Afghanistan under the guise of fighting terrorism and left nothing but devastation in their wake.
It also serves as a reminder that military intervention in other countries under the pretext of combating terrorism while claiming to bring democracy, peace, and prosperity not only degrades those common values but also harms those States and their people.
Against this backdrop, I would like to emphasize the following points:
1- The international community should continue to support Afghanistan, particularly in terms of the provision of humanitarian and development assistance that has been critical in keeping the Afghan people alive, maintaining basic services, and bolstering the economy. We call once more for the return of frozen assets belonging to the Afghan people. This is critical in assisting the Afghan economy and saving lives and should not be politicized or conditional.
2- The Taliban must heed the international community's repeated calls for the formation of an inclusive government that accurately reflects Afghanistan's multi-ethnic society. An inclusive government is the only way to ensure and protect the rights of all Afghan people, including women and girls, as well as linguistic, racial, and religious minorities. Despite repeated international calls, the Taliban has failed to make significant efforts to ensure that the government is truly, ethnically, and politically inclusive. The formation of an inclusive government is a prerequisite and critical component for international recognition.
3- New reports on the resurgence of Daesh, Al Qaeda, and their affiliated groups in Afghanistan are alarming, particularly in light of the recent spate of terrorist attacks across the country that have killed and injured more than 250 people this month, with the most recent attack on a mosque in Kabul on 17 August resulting in at least 54 casualties. The emergence of terrorist groups could pose a serious threat to Afghanistan, its neighbors, the region, and beyond. This trend highlights the international community's ongoing demand that the Taliban must commit to fighting terrorism and ensure that Afghanistan no longer serves as a safe haven for terrorist organizations such as Daesh and Al-Qaeda.
4- The security, stability, and prosperity of Afghanistan are intertwined and inseparable from those of its neighbors that have legitimate interests, and immediate and grave concerns for Afghanistan's overall situation particularly its security, as well as significant capacities to bring peace and prosperity to the country. The UN, particularly the Security Council, must use these capacities in order to improve Afghanistan's current deteriorating humanitarian situation and ensure the country's long-term peace and development.
5- We support UNAMA's efforts to promote peace and stability in Afghanistan in accordance with its mandate. The United Nations can play a vital role, both in addressing Afghanistan's humanitarian crisis as well as facilitating the intra-Afghan political process.
6- The Islamic Republic of Iran continues its efforts to assist the people of Afghanistan and work with Afghanistan's neighbors and other partners to ensure durable peace and sustainable development in Afghanistan. We believe that an Afghanistan that is democratic, prosperous, stable, and free of war, terrorism, and drugs benefits its people and is in the best interests of all of its neighbors, the region, and the world. We must all work tirelessly and collectively to help achieve this goal, while fully respecting Afghanistan's territorial integrity, unity, and political independence.
I thank you, Mr. President.