EU Goals Sacrificed for Greed of Violent, Terrorist Groups: Iranian FM
December, 03, 2022 - 10:49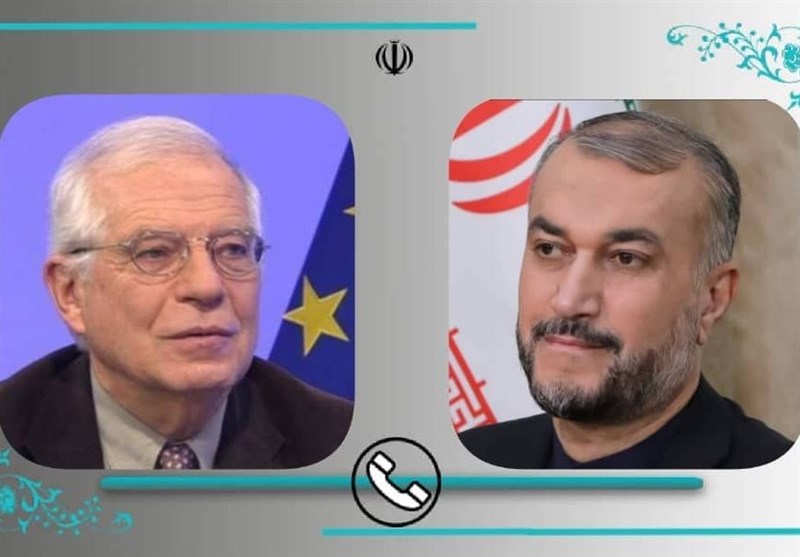 TEHRAN (Tasnim) – Decrying a few European officials for their undiplomatic comments about Iran, Foreign Minister Hossein Amirabdollahian said the strategic goals of the EU have been sacrificed for the objectives of violent and terrorist groups which give false information to hardline politicians.
In a telephone conversation with High Representative of the European Union for Foreign Affairs and Security Policy Josep Borrell on Friday night, Amirabdollahian appreciated the EU foreign policy chief's role in the course of dialogue and interaction with Iran.
He also denounced the undiplomatic language of a few European ministers about Iran, saying, "Today a number of hardline politicians in Europe are hiding behind the European Union and acting on the union's account."
The Iranian foreign minister warned that the strategic goals of the EU have been sacrificed for the objectives of the violent and even terrorist groups that provide the politicians with false information.
He also highlighted the significant role that the EU foreign policy chief can play in keeping the EU away from "unconstructive turmoil".
The two officials discussed the latest developments in the talks on the removal of sanctions against Iran, the revival of the Joint Comprehensive Plan of Action (JCPOA), and the cooperation between Tehran and the International Atomic Energy Agency, with Borrell pointing to his efforts to make all JCPOA parties resume honoring their commitment under the deal.
The EU foreign policy chief also stated that he will proceed with the efforts and contacts to conclude an ultimate deal in the JCPOA talks.