Iran-China-Russia Naval Drill to Include More States in 2024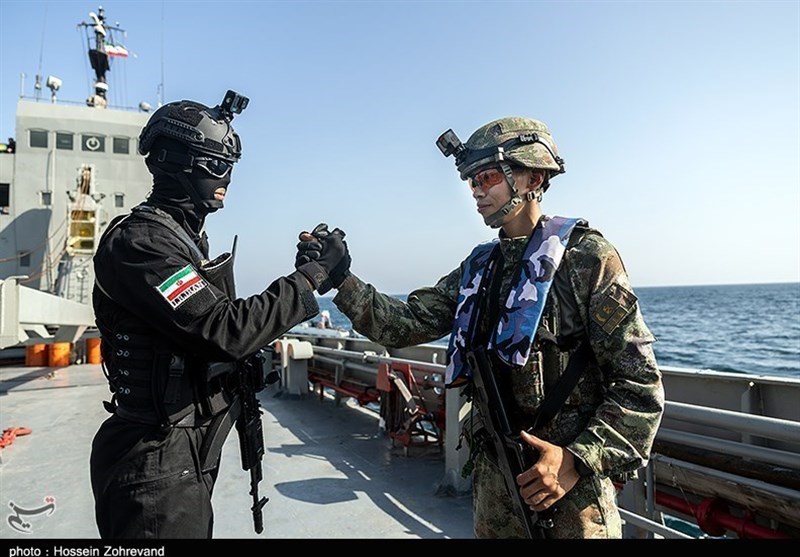 TEHRAN (Tasnim) – Next year's Marine Security Belt joint exercises will include other countries in addition to Iran, Russia and China, the Iranian Navy commander said at the conclusion of the joint drill.
The 2023 Marine Security Belt naval war game, including the Iranian, Chinese and Russian forces, ended in the northern parts of the Indian Ocean on Saturday.
Speaking to reporters at the conclusion of the drill, Iranian Navy Commander Rear Admiral Shahram Irani said more countries will take part in the exercise next year.
The commander expected that more countries and naval flotillas will attend the joint war game in 2024 at a higher level, considering that maritime security prevails in the region.
"Our neighbors have sensed the differences and they know today which country is a well-wisher and brother," he stated.
The commander also hailed the Iranian, Chinese and Russian naval forces for great tactical coordination in the war game, saying the exercises and operations were carried out in the best possible way.
During the past recent days when the joint drill was underway, the level of security in the region rose remarkably and not a single foreign vessel, which are occasionally present in the region, was spotted, Rear Admiral Irani added.
Various tactical maneuvers took place in the exercise, including actions to rescue a ship on fire, release two hijacked trade vessels and hit naval targets during the day and at night.
The aim of the joint exercise was to strengthen security and its foundations in the region, expand multilateral cooperation among the three countries, and demonstrate their goodwill and ability to support global peace, maritime security, and the creation of a maritime community with a common future.
It was the fourth joint exercise of Iran, China, and Russia in recent years.