Iranian Armed Forces Ready to Safeguard Islamic Republic: Chief of Staff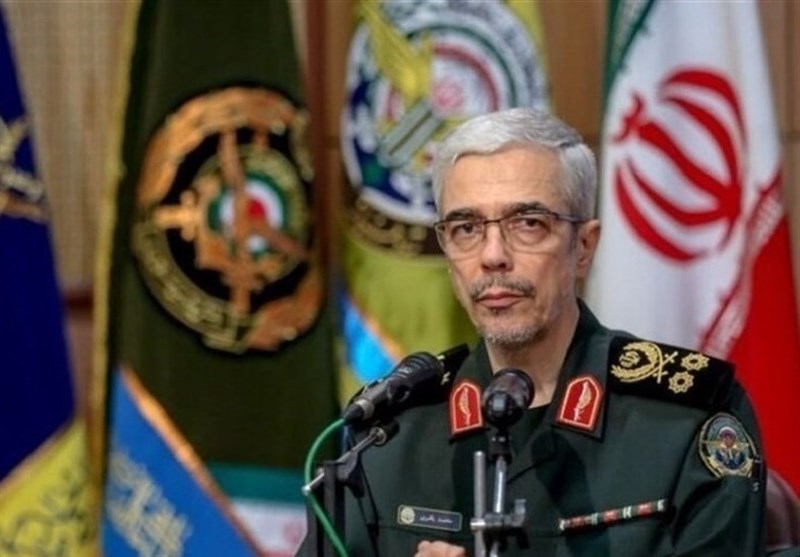 TEHRAN (Tasnim) – Chief of Staff of the Iranian Armed Forces Major General Mohammad Hossein Baqeri assured that the country's military forces are ready to safeguard the Islamic Republic, even if it means sacrificing their lives.
In his New Year's message on Tuesday, Major General Bagheri congratulated the Iranian nation all over the country on the concurrence of Nowruz in the spring season and the awakening of nature with the spring of the Quran, the fasting month of Ramadan.
He added that the Persian year 1401 (March 21, 2022- March 20, 2023) had passed with all its ups and downs, leaving behind precious experiences for the Islamic Republic of Iran.
Despite facing a hybrid war against its ideals, and religious, national and revolutionary values, the wise and highly alert Iranian nation thwarted the enemy's attempts to defeat them, he stated.
Major General Bagheri pointed out that despite the material and spiritual losses suffered during the last fall season events, the martyrs and the defenders of security in the IRGC, Basij mobilization force, and disciplinary police forces turned into a point of strength. He emphasized that the great Iranian nation had disrupted the enemy's calculations in the Bahman 22nd (February 11) rallies, which were the peak of their presence and further strengthened the system's pillars.
"We will nip the plots in the bud," Major General Bagheri said, concluding, "Now, in the year of 'Controlling Inflation and Increasing Production,' we declare to the Commander-in-Chief of the Armed Forces, Ayatollah (Seyed Ali) Khamenei, and the heroic Iranian nation that the Armed Forces of the Islamic Republic of Iran, not only like before but even more prepared than ever, will not hesitate to safeguard the Islamic Iran's entities through jihad and sacrifice of their lives, and they will monitor and stifle any hostile movements and plots."