Iran Will Keep Strengthening Armed Forces, Defense Minister Says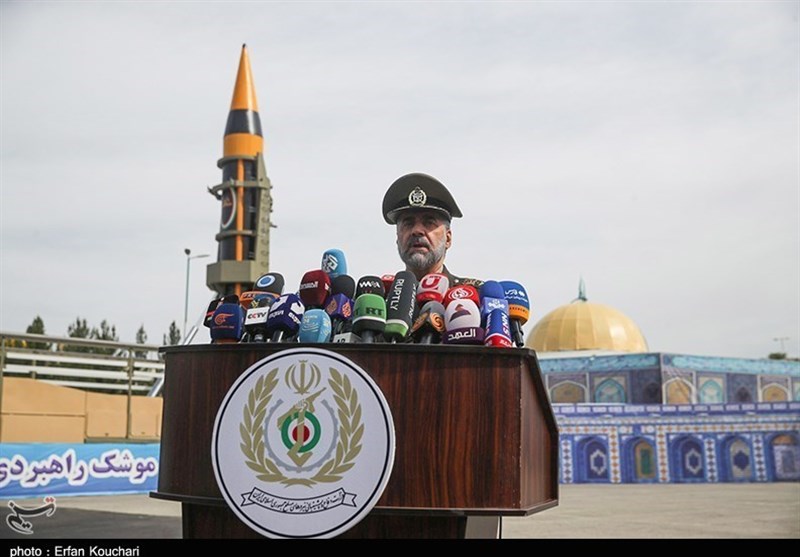 TEHRAN (Tasnim) – Iran's Defense Minister Brigadier General Mohammad Reza Ashtiani reiterated the country's resolve to enhance its defense and boost the capabilities of the Armed Forces in various fields.
Addressing a ceremony held on Thursday to unveil the latest version of Iran's domestically-manufactured Khorramshahr ballistic missile, the defense minister said steps to strengthen the Armed Forces in the missile, drone, radar and other area will continue to be taken.
He added that such unveiling ceremonies will continue to be held in the defense sector.
Brigadier General Ashtiani also said the message to the enemies is the Armed Forces' determination to defend the country and the achievements of the Islamic Revolution.
And the message to friends is the country's resolve to help enhance peace and stability in the region, he added.
The medium-range precision-guided projectile named Kheibar (Khoramshahr 4) was unveiled during the ceremony marking the 41st anniversary of the liberation of the southwestern city of Khorramshahr.
The missile's extended range, advanced guidance and control system, and improved structural features further solidify Iran's status as a formidable missile power.
Kheibar is one of the most advanced missiles designed by the experts of the Ministry of Defense's Aerospace Industries Organization. It is a liquid-fueled missile with a range of 2,000 kilometers and a warhead weighing 1,500 kilograms with impressive strategic and tactical capabilities.
The Khorramshahr class of missiles is known for its unique guidance and control system during the mid-flight phase.
The Kheibar missile also boasts an incredibly short preparation and launch time.
This feature allows the missile to control and adjust its trajectory outside the Earth's atmosphere, and to deactivate its guidance system upon entering the atmosphere, giving it complete immunity against electronic warfare attacks.
Thanks to this advanced control system, the Kheibar missile's warhead does not require the typical thin-wing arrangement, which in turn allows the missile to pack up a heavier explosive load.
Iranian military experts and technicians have in recent years made great headways in manufacturing a broad range of indigenous equipment, making the armed forces self-sufficient in the arms sphere.
Iranian officials have repeatedly underscored that the country will not hesitate to strengthen its military capabilities, including its missile power, which are entirely meant for defense, and that Iran's defense capabilities will be never subject to negotiations.
Leader of the Islamic Revolution Ayatollah Seyed Ali Khamenei has repeatedly called for efforts to maintain and boost Iran's defense capabilities, hitting back at the enemies for disputing the country's missile program.