Azerbaijan, Ethnic Armenians Agree to Ceasefire on Nagorno-Karabakh Conflict
September, 20, 2023 - 15:52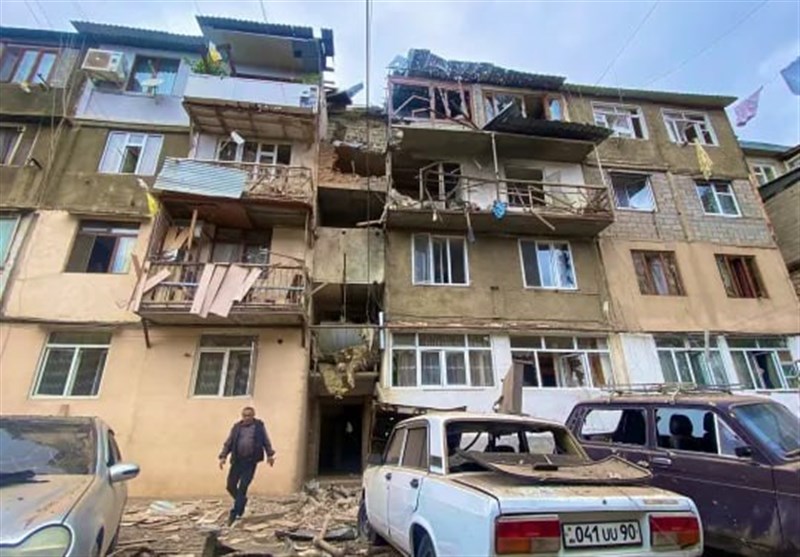 TEHRAN (Tasnim) – Authorities in Nagorno-Karabakh have embraced a ceasefire proposed by the Russian peacekeeping mission in the disputed region, according to Armenian media outlet 24News.
The president's press service of Nagorno-Karabakh stated, "With the mediation of the command of the Russian peacekeeping mission located in Nagorno-Karabakh, an agreement was reached on the complete cessation of military operations from 13:00 (09:00 GMT) on September 20, 2023."
Armenian Prime Minister Nikol Pashinyan expressed the critical importance of maintaining the ceasefire, expressing hope that Russian peacekeepers stationed in the area would ensure its stability. He conveyed in a televised address, "We hope that military escalation will not continue, because, in the current conditions, it is very important to ensure stability and stop combat actions."
The Russian Defence Ministry confirmed an agreement on a comprehensive ceasefire in Nagorno-Karabakh and affirmed that it would be coordinated with Russian peacekeepers. They continue to provide assistance to civilians and maintain close contact with all parties in the region.
The ministry reported that at the peacekeepers' main base, there are currently 2,261 civilians, including 1,049 children.
According to Azerbaijani Republic media, the Azerbaijani Defense Ministry has announced the control of more than 90 combat and "strategically important" positions in Nagorno-Karabakh. A ministry spokesperson stated that Armenians were leaving the battlefield in small groups, saying, "Conditions are being created for them to leave Karabakh voluntarily."
Reports from local media indicate that a preliminary meeting to discuss the ceasefire agreement between authorities from Nagorno-Karabakh and Azerbaijan is scheduled to take place on Thursday in the Azerbaijani city of Yevlakh. The agreement, negotiated with the Russian peacekeeping contingent in the region, involves the withdrawal of Armenian military units and equipment from Nagorno-Karabakh, as well as the disarmament of local defense forces.
Russia's peacekeeping force has successfully evacuated over 2,000 civilians from the most perilous areas of Nagorno-Karabakh, as reported by the state-run TASS news agency, citing the Defence Ministry. The ministry noted that all evacuated residents have been provided with temporary accommodation and hot meals, with specialist doctors offering medical assistance to injured residents.
Meanwhile, conflicting claims persist between Azeri and Armenian officials in Nagorno-Karabakh regarding the targets of Azerbaijan's military operation. The contested region's human rights office alleges that Azeri armed forces have targeted civilians, civilian infrastructure, and even an ambulance, resulting in a death toll of 27, including two civilians.
In contrast, Azerbaijan's Defence Ministry asserts that its armed forces exclusively target and destroy legitimate military facilities and military infrastructure with high-precision weaponry.