Israeli Forces Injure over 30 Palestinian Protesters in Gaza Clash
September, 23, 2023 - 16:59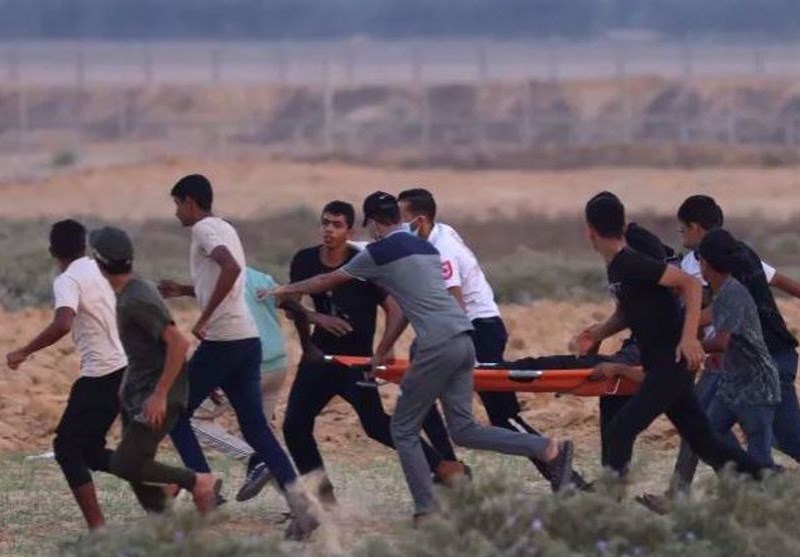 TEHRAN (Tasnim) – Israeli forces launched an attack on Palestinian protesters in the besieged Gaza Strip, resulting in injuries to more than 30 individuals.
The protesters had gathered near the fence separating Gaza from the occupied territories on Friday, with the Israeli military confirming air attacks on the Gaza Strip.
Demonstrators voiced their support for the al-Aqsa mosque and the occupied West Bank, denouncing the escalating violence perpetrated by Israeli forces and settlers against Palestinians in the region. They also expressed solidarity with Palestinians detained in Israeli prisons.
Israeli forces used live ammunition and tear gas to disperse the protesters, prompting them to respond by launching incendiary balloons towards Israeli settlements near Gaza, causing fires.
In retaliation, Israeli forces conducted aerial and artillery attacks on resistance positions in eastern Gaza, resulting in at least one Palestinian injury. The Israeli military reported that a drone struck two military posts associated with the Palestinian resistance movement Hamas, which governs the Gaza Strip. Separately, an Israeli tank targeted another military post, alleging that shots had been fired from there at Israeli troops confronting protesters.
The Hamas-affiliated radio station Aqsa reported multiple injuries among those affected by the strikes.
The protests along the separation fence in Gaza have been ongoing for several days, driven by concerns about the treatment of Palestinian prisoners by the Israeli regime and provocative visits by settlers to the Al Aqsa Mosque compound.
The Gaza health ministry confirmed that more than 30 Palestinian protesters were wounded by Israeli troops on Friday, following the fatal shooting of a protester by troops earlier in the week.
Hamas responded to the Israeli attack, with its spokesman Abdel Latif al-Qanoua characterizing the assaults as part of a continued Israeli aggression. He emphasized the Palestinian people's right to express their anger and engage in resistance in all forms, using all available means against the Israeli occupation.
Israel's violence against Palestinians has escalated in recent months, underlining the rise of what is perceived as the most right-wing Israeli cabinet. In 2023, over 200 Palestinians have been killed in the occupied Palestinian territories and Gaza, making it the deadliest year for Palestinians in the West Bank since the United Nations began tracking fatalities in 2005. The previous deadliest year was 2022, with 150 Palestinians killed, including 33 minors, according to the United Nations.