Iran Announces Support for Syrian Refugee Return Efforts at UN Meeting
September, 24, 2023 - 12:50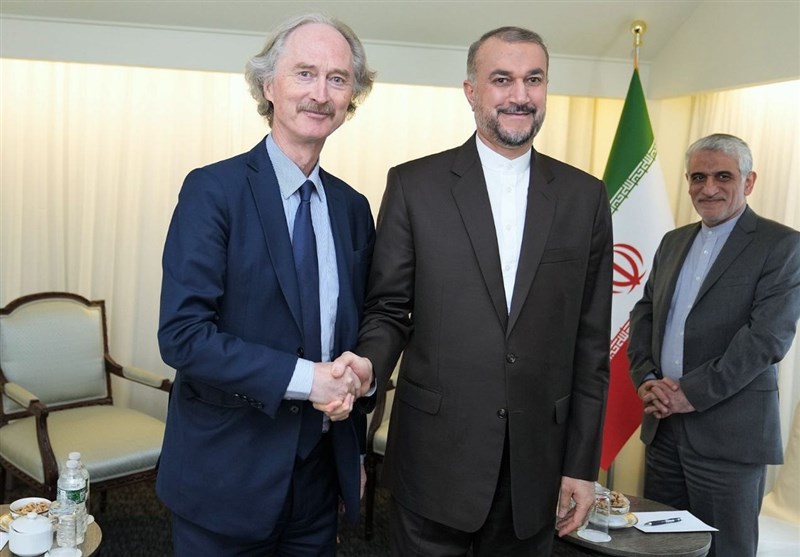 TEHRAN (Tasnim) - Iran's Foreign Minister Hossein Amirabdollahian announced the country's support for initiatives aimed at facilitating the return of Syrian refugees to their homeland.
This declaration was made during a meeting with Geir Pedersen, the Special Representative of the UN Secretary-General for Syria, on the sidelines of the 78th session of the United Nations General Assembly in New York.
During the meeting, Amirabdollahian discussed the challenging economic conditions in Syria and the impact of sanctions on its people. He stressed that the United Nations should assist the Syrian government and its people in various areas, including the economy, livelihoods, counterterrorism, eradicating terrorist remnants, providing humanitarian aid, and facilitating refugee returns.
Pedersen, in response, presented a progress report on his mission in Syria and expressed gratitude for Iran's supportive role. He shared his perspectives on Syria's political process, counterterrorism efforts, and the refugee issue.
In a post on social media platform X (formerly known as Twitter) on Saturday, Amirabdollahian also condemned "inhumane sanctions" against Syria and urged the international community to continue alleviating the suffering of the Syrian people. The Iranian foreign minister added that he had discussed the issue of Syrian refugees with the UN special envoy for Syria and his Turkish and Russian counterparts a day earlier.
Iran, Russia, and Turkey launched the Astana Peace Process initiative in January 2017, aimed at finding a political solution to the Syrian conflict. This initiative has received the backing of the United Nations.
On the sidelines of the 78th UN General Assembly, Amirabdollahian hosted meetings with Russia's Sergey Lavrov, Turkey's Hakan Fidan, and UN Syria Envoy Geir Otto Pedersen.
The war in Syria began in 2011, displacing more than 12 million people, including almost 6.8 million internally displaced persons, according to the UNHCR.