Palestinians Rally against UAE, Bahrain Normalization Deals with Israel (+Video)
September, 16, 2020 - 11:02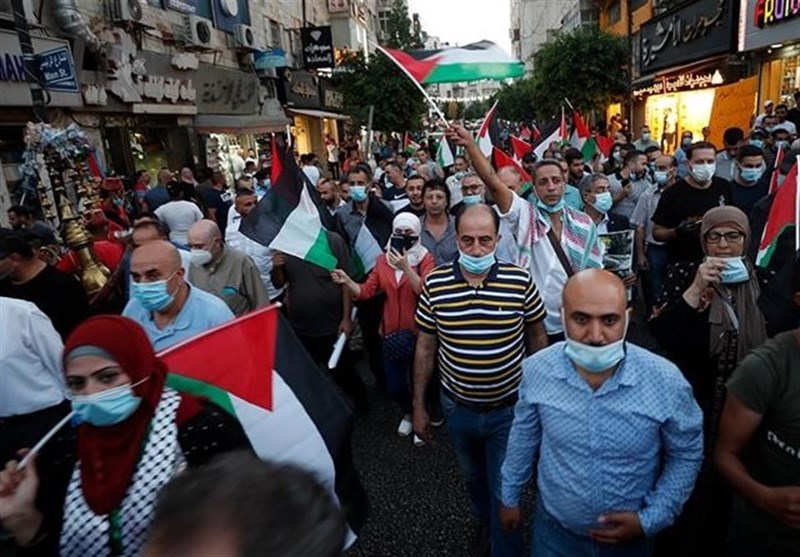 TEHRAN (Tasnim) – Hundreds of Palestinians protested Tuesday in the occupied West Bank and the Gaza Strip, denouncing the UAE and Bahraini normalization agreements with Israel as rockets were fired into the country.
The deals, brokered by the United States, were signed on Tuesday at the White House, where Israeli prime minister Benjamin Netanyahu met Bahraini and Emirati officials.
Clutching Palestinian flags and wearing face masks for protection against the coronavirus, demonstrators rallied in the West Bank cities of Nablus, Ramallah and Hebron and in Gaza. Dozens also took part in a demonstration in Ramallah, home of the Palestinian Authority (PA).
Banners were displayed reading "Treason", "No to normalization with the occupier", and "The agreements of shame".
Protesters trampled pictures of Netanyahu, US President Donald Trump, Bahrain's King Hamad bin Isa Al Khalifa, and Abu Dhabi Crown Prince Mohammed bin Zayed Al Nahyan before they were burned.
The ceremony in Washington, DC marked the first such significant agreement between Arab countries and Israel in a quarter-century.