Thousands Return to Protest in Chile to Ask for Pinera's Resignation
November, 28, 2020 - 11:37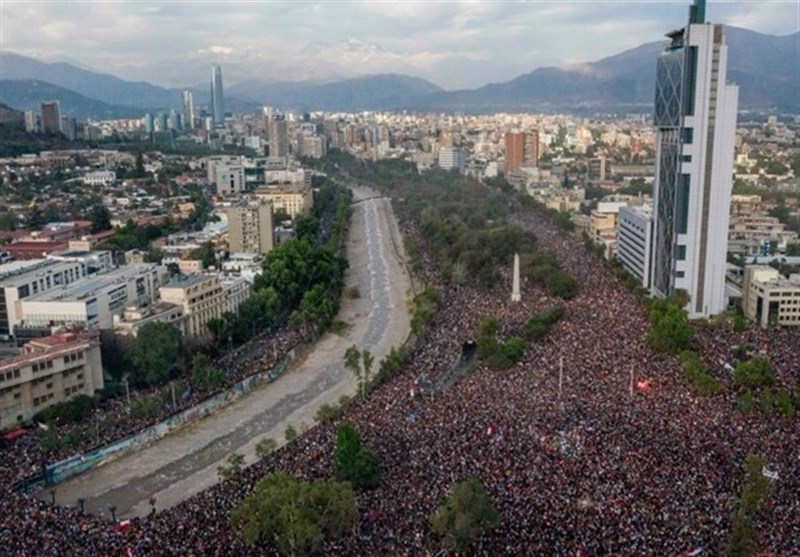 TEHRAN (Tasnim) – Thousands of people demanded this Friday in Santiago the resignation of Chilean President Sebastian Pinera, in a resurgence of social protests and violent clashes with the Police.
Some 10,000 people, summoned from social networks, gathered in the streets surrounding the government house, heavily fenced by the Police, to move along the central Alameda Avenue, the main artery of the Chilean capital.
The police used gas and water carts to disperse groups of hooded men who threw stones and sticks at them and burned public transport stops.
Demonstrators affected by the chemicals, vomiting in the corners and even slumped on the ground, numbered in the dozens, AFP found.
"All of Chile will continue to take to the streets until this president resigns, as long as he does not leave office, Chile will continue to mobilize, not only Santiago, but the entire country," a protester identified as Andrea Molina, a worker from a business, 36 years old.
The protest was preceded by several days of clashes between groups of protesters and the police, in addition to the women's march on Wednesday on the occasion of the World Day for the Eradication of Violence against Women, which also ended with riots.
But this Friday was the most massive of the demonstrations of the last week.
Without a leader or an organized group behind the calls, the protests and confrontation returned to the streets of downtown Santiago, although not with the mass of those of last year. Protests were also recorded in the cities of Concepcion (south), Antofagasta (north) and Valparaiso (center).
The protests in Chile began in October of last year and stopped in the harshest months of the pandemic. After the plebiscite of last October 25, in which he imposed by an overwhelming 78% for the option to draft a new Constitution that leaves behind the legacy of the dictatorship (1973-1990), they decreased in intensity but for at least a week they returned to emerge.
"We are going to go out until things change; until we become participants ourselves. If we are not, this will not change. Today we are participants and no one stops us on the street," Patricio, a public official, told AFP 52 years old.