Lavrov Deplores EU Sanctions on Iran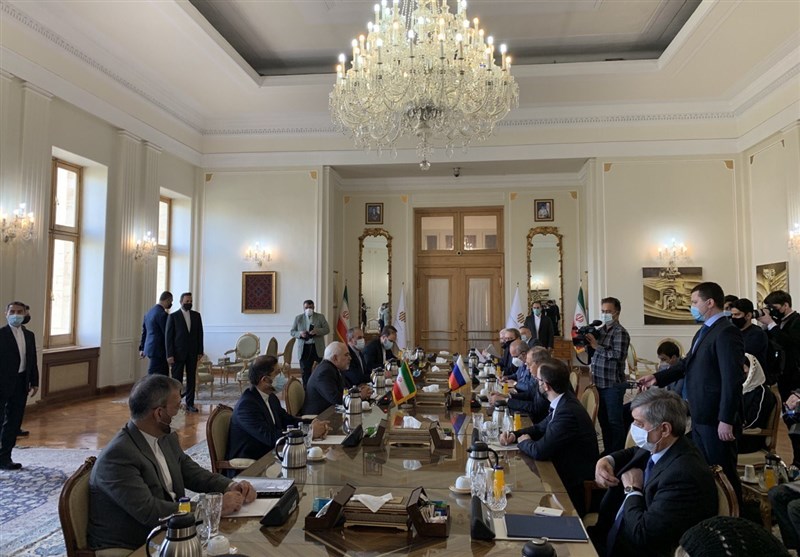 TEHRAN (Tasnim) – Russian Foreign Minister Sergei Lavrov decried the European Union's new sanctions on Iran while Tehran and the other JCPOA parties have launched a new round of talks to revive the nuclear deal.
In comments after a meeting with his Iranian counterpart Mohammad Javaz Zarif, held in Tehran on Tuesday, Lavrov said the European sanctions could undermine the negotiations in Vienna to revitalize the 2015 Iran nuclear deal.
"We expect that it will be possible to preserve the Joint Comprehensive Plan of Action," the top Russian diplomat said, adding, "As far as we understand, our partners in Tehran have expressed their readiness to immediately move in that direction" if Washington returns to compliance with the deal it abandoned.
However, he added, the latest EU sanctions gave rise to "a huge amount of questions."
The EU said in its official journal on Monday that it had imposed sanctions on eight Iranian commanders, including Chief Commander of the Islamic Revolution Guards Corps (IRGC) Major General Hossein Salami, and three prisons over so-called human rights violations.
The sanctions some at a sensitive time as Brussels is mediating the diplomatic efforts in Vienna to make the US lift its anti-Iran sanctions and rejoin the deal so that Tehran would reverse the retaliatory measures it has been taking under Article 36 of the JCPOA.
"If there is any kind of coordination lacking in the EU and the right hand is not aware of what the left hand is doing, that's simply unfortunate," Lavrov said. "But if this decision has been deliberately taken amid the talks continuing in Vienna to rescue the JCPOA, then it is not just unfortunate — this is a mistake that is worse than a crime."
"I hope our European colleagues understand that such actions are unacceptable and will take measures not to allow the talks to be derailed," the top Russian diplomat added, Press TV reported.
The EU's move was firmly rejected by Tehran, which said later in the day that said it would respond by suspending talks with the bloc on human rights and all resulting cooperation, including that on terrorism, illicit drugs, and refugees.
Zarif, for his part, lashed out at the Europeans imposing sanctions on Iran instead of condemning America's economic terrorism against 82 million Iranians and Sunday's incident at Natanz nuclear facility.
The sanctions, he added, only make the world realize that the EU "has no status (of its own) in the world, and that it is not only a follower of American policies, but also a follower of the most extremist groups in the United States and the Zionist regime."
"This is a reason for Europe to be ashamed. It is definitely a destructive action and we will definitely respond to this action," the top Iranian diplomat said.
Zarif advised the Europeans to "think about their dignity. Europe should know that it is not in a superior moral position. Europe cannot preach to the world. A Europe, where xenophobia and anti-Islamism have created terrible conditions for Muslims, has neither the reputation nor the position to sanction the Iranian authorities."