Protests Held in Glasgow As COP26 Session Begins (+Video)
November, 01, 2021 - 17:14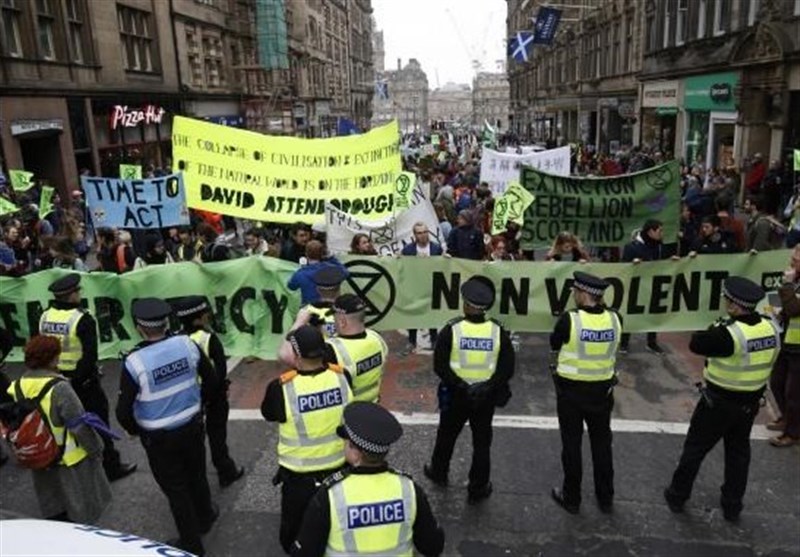 TEHRAN (Tasnim) – COP26 kicked off in Glasgow on Monday, marking two weeks of climate talks and protests planned around the city.
World leaders are due to meet for the latest round of United Nations talks to drive action on averting climate change.
Heads of state are expected to arrive at the Scottish Event Campus this morning before the opening ceremony at 12pm, with speakers including Prime Minister Boris Johnson, the Prince of Wales, Sir David Attenborough and UN secretary-general Antonio Guterres, according to GlasgowLive.
Scotland's First Minister Nicola Sturgeon addressed Glasgow on Friday, as road closures and restrictions came into force, and asked city residents to limit travel throughout the two-week event.
She pinpointed today and Tuesday, as well as Friday and Saturday (November 5 and 6) as particularly busy days as planned demonstrations go ahead elsewhere in Glasgow.
Demonstrators have gathered outside of Glasgow's conference center against "ED's visit to the UK COP26."
They are planning two weeks of protest in the city and worldwide to coincide with Cop26, and say their actions at Cop will charge the world's most powerful governments with crimes against humanity.
The UN Cop process is, they say, "systematically corrupted by vested interests – national, corporate and financial".
Extinction Rebellion have previously warned of high-impact "deliberate disruption" as thousands of delegates and hundreds of world leaders descend on the city for the summit, Herald Scotland reported.
While XR has not announced in advance how, or where it will protest, the group has confirmed that it will use "non-violent direct action".
The First Minister has previously pleaded with the protestors to "do it peacefully".
Charlie Gardener, a spokesperson from Scientist Rebellion, a group within Extinction Rebellion, said getting arrested is a way to convey the "urgency" of the climate crisis.