Iran, IAEA Issue Joint Statement after Grossi's Visit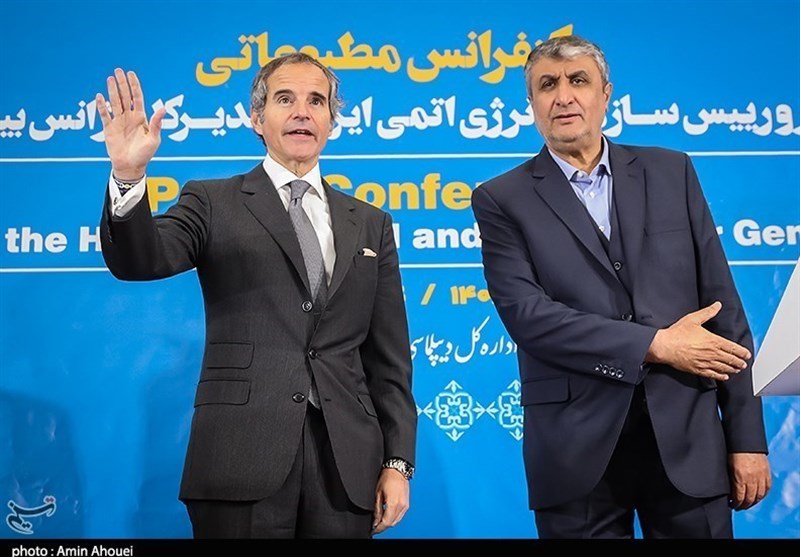 TEHRAN (Tasnim) – Iran and the UN nuclear agency issued a joint statement after Director General of the International Atomic Energy Agency Rafael Grossi's trip to Tehran, agreeing on closer cooperation to settle the outstanding issues pertaining to the Safeguards Agreement.
The Atomic Energy Organization of Iran (AEOI) and the UN nuclear agency issued a joint statement on Saturday at the end of a two-day visit by Grossi to Tehran and his talks with President Ebrahim Raisi, Foreign Minister Hossein Amirabdollahian and Head of the Atomic Energy Organization of Iran (AEOI) Mohammad Eslami.
According to the statement, both sides recognized that such positive engagements between Iran and the IAEA can pave the way for wider agreements among state parties, Press TV reported.
Both sides agreed that bilateral interactions will be carried out in a spirit of collaboration, and in full conformity with the competencies of the IAEA and the rights and obligations of Iran based on the comprehensive safeguards agreement.
"Regarding the outstanding safeguards issues related to the three locations, Iran expressed its readiness to continue its cooperation and provide further information and access to address the outstanding safeguards issues," the statement said.
Iran and the IAEA are currently in a dispute triggered by the agency's Israeli-influenced accusations, which were leveled against Tehran's peaceful nuclear activities. The IAEA insists to probe into what the agency claims are "uranium traces" found at "undeclared nuclear sites" in Iran.
The issue has emerged as a key sticking point in talks aimed at salvaging the 2015 nuclear deal, which remain stalled since last August. Iran has dismissed the probe as "politically motivated".
In the statement, Iran expressed its readiness to "allow the IAEA to implement further appropriate verification and monitoring activities" on a voluntary basis will.
"Modalities will be agreed between the two sides in the course of a technical meeting which will take place soon in Tehran," it added.