Dozens of Settlers Storm Al-Aqsa Mosque under Heavy Security by Israeli Forces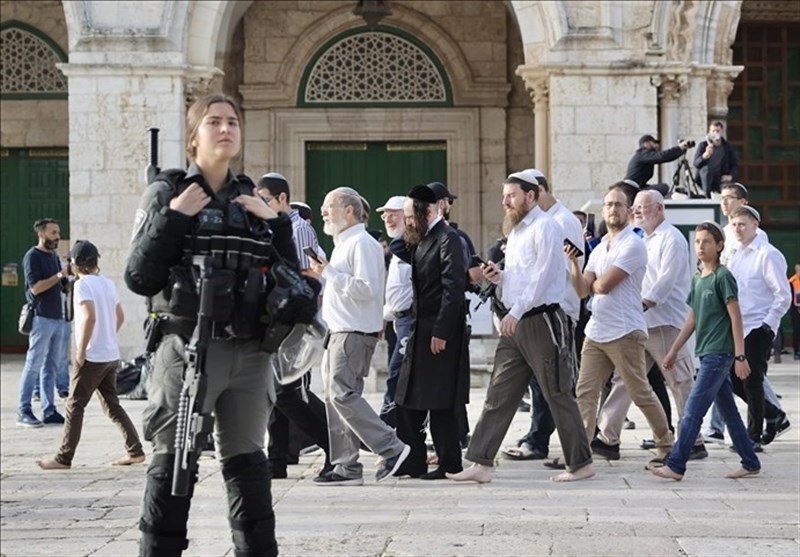 TEHRAN (Tasnim) – Israeli settlers on Sunday began storming the courtyards of Al-Aqsa Mosque under heavy security by the Israeli regime's police.
The raids were conducted through the Mughrabi Gate and the Chain Gate, in the western wall of Al-Aqsa Mosque. Prior to the incursion, Israeli police had been deployed in Al-Aqsa squares, Anadolu Agency reported.
Eyewitnesses reported that a small number of Palestinians performed morning prayer in front of the Al-Qibli Mosque, interspersed with religious invocations and supplications. Some worshipers chanted "God is great" in protest of the incursions.
Israeli settler groups had called for large-scale incursions into Al-Aqsa Mosque on the occasion of the Jewish Passover holiday, which began last Wednesday evening and will last for a week.
The Israeli police prevented Palestinian youths from entering Al-Aqsa Mosque to perform the dawn prayer before the settlers stormed the mosque on the occasion of the Jewish Passover holiday.
The Israeli police deployed heavily at the outer gates of Al-Aqsa Mosque, stopping young men and asking them to return to their homes.
The police also informed the youths that they would not allow anyone under the age of 50 to enter the mosque to perform prayers. Despite these measures, dozens of Palestinians succeeded in seceding in the Al-Qibli prayer hall in Al-Aqsa Mosque.
The city of Jerusalem al-Quds has been witnessing tension since the beginning of last week, following the Israeli police storming of Al-Aqsa Mosque at night and preventing worshipers from performing i'tikaf.
The repeated incursions into Al-Aqsa led to tension and clashes throughout the occupied Palestinian territories, in addition to the firing of rockets from Lebanon, Gaza, and Syria.