Palestinian Resistance Groups Retaliate Israeli Airstrikes with Rocket Fire (+Video)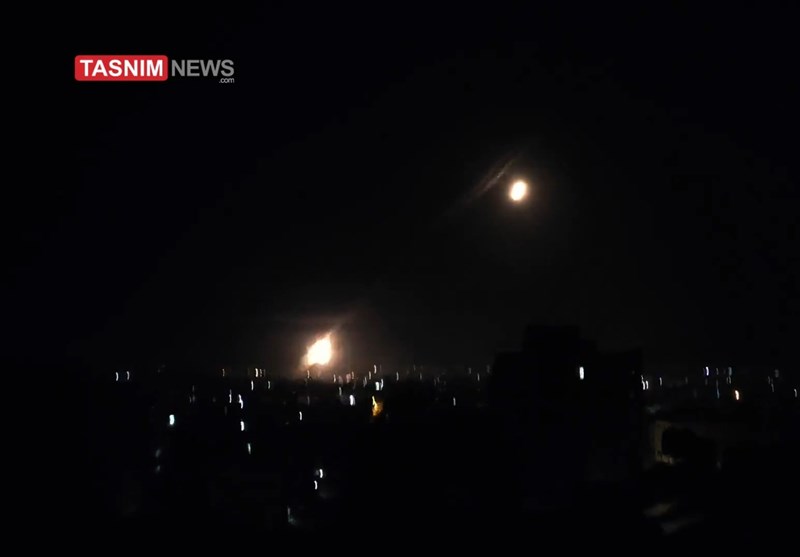 TEHRAN (Tasnim) – Gaza's resistance groups fired over 130 rockets towards Tel Aviv on Tuesday night in response to Israeli air strikes on the Gaza Strip.
"We are carrying (out) now our promise (by) launching a massive rocket strike against Tel Aviv and its suburbs, with 130 rockets, in response to the enemy's targeting of residential towers," Hamas's armed wing said in a statement reported by Reuters.
Israeli bombing raids across Gaza have killed at least 35 people, including 12 children, according to Palestinian health officials, who also said 220 people have been injured, as of Tuesday evening.
A 13-storey tower block in Gaza city collapsed on Tuesday night after it was hit by an Israeli airstrike, drawing vows of retaliation from resistance forces.
The Israeli army claimed in a statement that the building contained offices used by Hamas across several floors, including intelligence offices of its military wing, and a research and development unit working on rockets.
Hamas and Islamic Jihad promised to retaliate by firing rockets at Tel Aviv, and shortly before 9pm sirens went off across the city and surrounding towns.
The Izz ad-Din al-Qassam Brigades, the military wing of Hamas, later said the movement had targeted Tel Aviv with 130 rockets on Tuesday night, a statement shared on Whatsapp read.
In the past two days, Hamas and Islamic Jihad in Gaza have fired at least 500 rockets into Israel, forcing the closure of Israel's main international airport, Ben Gurion, about fifteen kilometers east of Tel Aviv.
The resistance groups say it is a response to the actions of Israeli police who fired stun grenades inside Al-Aqsa Mosque in Jerusalem al-Quds- one of the city's holiest sites - on Monday morning.
Hundreds of Palestinians went to hospitals for treatment after ensuing clashes with Israeli police, in the most serious violence seen in the city in weeks.
The Israeli military conducted more than 150 strikes in Gaza as of Tuesday afternoon, according to a military spokesman, who said Israel had also called up 5,000 reserve troops to active duty to "enhance" its operation in Gaza.